Daily Business Report — Dec. 12, 2012
San Diego County November Home Sales
Climb by 22.4 Percent Over Last Year
San Diego County home sales in November climbed by 22.4 percent from last year while the median home price for the month jumped by 13.7 percent from a year ago, according to San Diego-based DataQuick. Home sales last month were put at 3,371 compared to 2,754 in November 2011. The median home price for November was $358.000 compared to $315,000 a year ago. November's home sales were lower than October's sales of 3,622. The median home price was $350,000 in October.
Southern California
Southern California's housing market continued its gradual recovery last month, logging the highest November sales in six years amid strong demand from investors and move-up buyers. The median sale price rose nearly 17 percent from a year earlier, the result of price appreciation as well as the ongoing shift toward fewer foreclosure resales and more mid- to high-end activity, a real estate information service reported. A total of 19,285 new and resale houses and condos sold in Los Angeles, Riverside, San Diego, Ventura, San Bernardino and Orange counties last month. That was down 8.5 percent from 21,075 sales in October, and up 14.2 percent from 16,884 sales in November 2011, according to DataQuick. The median price paid for a home in the six-county Southland was $321,000 last month, up 1.9 percent from $315,000 in October and up 16.7 percent from $275,000 in November 2011.
San Diego Homeless Population 3rd Largest in Nation
San Diego had the third largest homeless population of any American metropolitan area in 2012, surpassed only by New York City and Los Angeles. That's the conclusion of a new report on homelessness by HUD, the Department of Housing and Urban Development, KPBS reports. People lay on beds in the winter shelter in Downtown San Diego. San Diego County's 10,013 homeless people were more than that found in many larger metro areas, including Seattle, Chicago and Houston. San Diego was also listed in the top five, among major cities, for its increase in the number of homeless people, compared with the previous year. Los Angeles, by comparison, had the nation's largest decrease in homeless population. The HUD study was based on annual counts of homeless populations and a "point-in-time" calculation: One day in January in which homeless shelter staff fanned out across metro areas and counted people in shelters and people on the street. On that day in January, HUD reports there were 633,782 homeless people in the United States. One in five homeless Americans lived in California, giving it by far the nation's largest homeless population. The HUD report said people who are "chronically" homeless make up about 25 percent of San Diego's homeless population. That figure is comparable to what's found in many other metro areas. The HUD report did give some reason for hope. Homelessness has decreased by nearly 6 percent over the past five years throughout the U.S.
LGBT Pride Executive Announces Council Bid
Dennis Crenshaw, executive director of San Diego LGBT Pride, announced his intention to run for the District 4 City Council seat, which Tony Young will vacate on Dec. 31. Young is resigning to head the local chapter of the American Red Cross. Crenshaw, 42, was an unsuccessful candidate for the District 4 seat in 2002 and 2004.
******************************************
Senior Community Centers
Honor Bud and Esther Fischer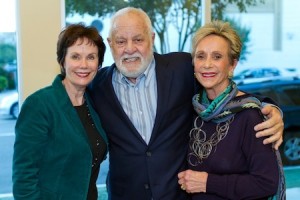 Senior Community Centers honored Bud and Esther Fischer, two San Diego visionaries and philanthropists, for their dedication to supporting San Diego's low-income and homeless seniors. A reception was held earlier this month at the Gary and Mary Wellness Center and featured re-naming the center computer lab "Bud and Esther's Cyber Cafe." Bud and Esther Fischer started supporting Senior Community Centers in 1981 by paying for and serving Christmas dinners to seniors in need. One of the organization's first donors and the longest standing supporters, Bud and Esther, his wife since 1954, have continued to provide financial support. The Fischers also offered space to Senior Community Centers in one of its buildings at Ninth Avenue and E Street in Downtown San Diego, when the agency needed a space of its own more than three decades ago. The Fischers, who reside in North County, recently made a donation to Senior Community Centers that will be used over the next 10 years for a match program to allow the organization to raise funds for its Homeless Prevention Program, which aims to help seniors by matching them with a case worker who provide them with access to housing, meals and counseling. Photo: Bud and Esther Fischer, on right, with  Marjory Kaplan, president and CEO of the Jewish Community Foundation.
Nation's Largest Carbon-Neutral Office
Building Under Construction in San Diego
A 13-story building under construction at La Jolla Commons in San Diego will become the nation's largest carbon-neutral office building, according to real estate firm Hines and equity partner J.P. Morgan Asset Management. The new building will achieve carbon neutrality on an annual basis through a combination of high-performance building design, directed biogas and on-site fuel cells that annually will generate more electricity than the building and tenant will use, the developers said. LPL Financial will lease and occupy the entire 415,000-square-foot building. Completion is scheduled for mid-2014. The building design incorporates a highly efficient under-floor air system, advanced curtain wall materials and many other features that reduce the energy required to operate the building, the developers said.  The fuel cells, acquired from Bloom Energy, will generate 5.0 million kilowatts of electricity annually, which is above what the building will consume.  Total on-site energy production will be roughly equivalent to generating the electricity required to power 1,000 San Diego homes.
Kyocera Solar Panels Power Zoo's
Electric Vehicle Charging Canopies
Kyocera Solar Inc.'s photovoltaic solar panels are powering the new 90-kilowatt canopy that charges electric vehicles at the San Diego Zoo. The Solar-to-EV project, in partnership with Smart City San Diego, is run by San Diego Gas & Electric and is a part of the zoo's commitment to environmental sustainability. All Kyocera solar panels used in the project were manufactured in the U.S.A. at the company's San Diego facility. The Solar-to-EV project is among the first of its kind. Its Kyocera solar panels harness the sun's energy to charge vehicles in the zoo's parking lot and provide renewable energy to the electrical grid, while its high-tech battery system stores solar power for future use. Ten solar canopies, designed and installed by Vista-based Independent Energy Solutions, produce 90 kilowatts of peak generating capacity – enough to power 59 homes – as well as five electric vehicle charging stations.
The Daily Business Report is produced by SD METRO.
Contact: Manny Cruz (619) 287-1865. manny@sandiegometro.com.