Daily Business Report — Dec. 20, 2012
Soitec Opens $150 Million Solar Manufacturing Facility
Soitec held a grand opening Wednesday of its North American solar manufacturing facility in the Rancho Bernardo area of San Diego, which puts the company among the top three manufacturers of solar modules in the United States. The factory is equipped with an automated production line and represents an investment of more than $150 million, the company said. Soitec acquired the 176,000-square-foot manufacturing center on 14.8 acres of land in December 2011. The company completed an extensive upgrade of the facilities to install fully automated manufacturing equipment and processes. The factory has been designed to reach 280 megawatt capacity at full production. The factory should create 450 jobs at full capacity, including employees for the joint venture Reflexite Soitec Optical Technology LLC, a new company operating a manufacturing operation within the facility to manufacture silicone-on-glass Fresnel lens plates used in Soitec's CPV modules. The project was supported by a $25 million investment from the Energy Department and backed by more than $115 million in private sector investments.
State Regulator Wants SDG&E Customers to Pay
Bill for the 2007 Wildfires Caused by the Utility
In an about-face, a state regulator recommended late yesterday that customers pick up the tab for San Diego Gas & Electric's uninsured costs for the 2007 wildfires, KPBS reports. The revised opinion confirms ratepayers' worst suspicions and represents a potential victory for SDG&E whose lines ignited the fires that killed two people and destroyed hundreds of homes. In October, California Public Utilities Commissioner Timothy Simon rejected the 2007 fire reimbursement for SDG&E. But yesterday, in an 11th hour revision to that opinion, Simon backtracked and recommended that regulators allow SDG&E to recoup the bulk of those costs from customers instead of shareholders. The company expects the costs to exceed $1 billion. For weeks, ratepayer advocates publicly expressed dismay at a flurry of private meetings between SDG&E and state regulators. They believe Simon's reversal are a result of intense, closed-door lobbying by SDG&E. Regulators were scheduled to vote on Simon's latest opinion today. Ratepayer groups says any vote at this point violates their due process because of the way the changes were made and the timing. If regulators vote anyway, one ratepayer group predicted "San Diegans will revolt."
Alzheimer's Association Awards Grants to 2
San Diego Scientists for Alzheimer's Research
San Diego scientists Mark Tuszynski and David R. Schubert have been awarded research grants for cutting-edge Alzheimer's disease research by the San Diego chapter of the Alzheimer's Association. Tuszynski is professor of neurosciences and director of the Center for Neural Repair at UC San Diego, and Schubert is professor and head of the Neurobiology Laboratory at the Salk Institute for Biological Studies.
The 2012 Zenith Fellows Award Program will provide $450,000 over the next three years to Tuszynski and his studies to support an investigational new drug application to the Food and Drug Administration for a therapy that is effective in preclinical models of Alzheimer's Disease. Tuszynski and his team, as a part of the Shiley Marcos Alzheimer's Disease Research Center at UC San Diego, will develop techniques for using magnetic resonance imaging to guide the delivery of the Brain-Derived Neurotrophic Factor gene to the regions of the brain where it is expected to be effective.
The 2012 Investigator-Initiated Research Grant will provide $240,000 to Schubert and his colleagues over the next three years for the development of a new drug candidate, CNB-100, which stimulates removal of beta-amyloid from the brain. Beta-amyloid is a toxic protein that often accumulates in Alzheimer's disease brains and is one of the hallmarks of the disease.
The grants were announced by Alzheimer's disease research supporter and philanthropist Darlene Shiley and Mary Ball, the Alzheimer's Association chief executive officer. Alzheimer's is the third-leading cause of death in San Diego County.
Safety and Effectiveness of Vitamins, Herbs and
Minerals to be Explained at Jan. 30 Program Here
Medical experts from Scripps Center for Integrative Medicine will offer San Diegans the latest practical insights about the safety and effectiveness of vitamins, herbs and minerals at the 10th annual Natural Supplements School, which will be held Jan. 30 from 1 to 5:30 p.m. at the Hilton San Diego Resort on Mission Bay. The event is open to the public, with a registration fee of $99. For more information or to register to attend, call Scripps Conference Services at (858) 652-5400 or visit scripps.org/conferenceservices. "When it comes to vitamins, herbs and minerals, consumers need reliable and timely information," said Mimi Guarneri,  founder of Scripps Center for Integrative Medicine and one of the event's presenters. "This program is a great place for people to do their homework and get answers."
Pension, Redevelopment Decisions Costly for San Diego
The city of San Diego's budget could take a $41 million hit next year because of separate decisions made this week by the board that oversees the city of San Diego's employee retirement system and the state Department of Finance, Mayor Bob Filner and Chief Operating Officer Jay Goldstone said Wednesday. The San Diego City Employees Retirement System directors decided to budget about $27 million in upfront costs for Proposition B for the coming fiscal year, which starts July 1. City officials had hoped to defer increased annual contributions to the pension system for another year. Two-thirds of voters approved Proposition B in June in anticipation of the city saving hundreds of millions of dollars through 2040. But pension system changes will cost the city more than it will save for the first four years or so, according to Goldstone. The state's elimination of property-tax funded redevelopment agencies will cost the city's general fund about $11 million a year in debt service for Petco Park and about $3 million annually in bond repayments for a previous expansion of the San Diego Convention Center. Those costs were previously borne by the Centre City Development Corp., the downtown redevelopment agency. (City News Service)
Golden Door Spa in San Marcos Sold
to Undisclosed Buyer for $24.8 Million
The Golden Door Spa, a 41-room luxury spa located on 377 acres in San Marcos, has been sold for $24.8 million to an undisclosed buyer. HFF, which announced the sale, said it could not say who purchased the property. The spa at 777 Deer Springs Road was founded by Deborah Szekely and late husband Edmond. Founded in 1958 and rebuilt in 1975, the award-winning, Japanese-inspired resort pioneered the development of the spa industry in the United States and provides customizable programs with a focus on holistic wellness to its guests. The exclusive resort contains 20 miles of hiking trails, expansive indoor fitness areas, a tennis court, swimming pool and jacuzzi, water therapy pool, Japanese bathhouse and archery range in addition to a 122-acre avocado orchard and organic vegetable and fruit gardens. The transaction also includes ownership of The Golden Door brand and future resort expansion opportunities.
Residential and Retail Building in
Oceanside Sells For $3.6 Million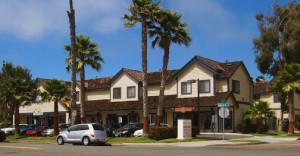 James and Linda Ritch have purchased a mixed use residential and retail building at 502-508 Sportsfisher Drive and 510 N. Coast Highway in Oceanside for $3.6 million. The seller was Surfrider Shores LP. The property has 16 residential units and four retail suites. The apartment unit mix consists of 14 one-bedroom/one-bath units and two two-bedroom/one-bath units. The retail suites range in size from 805 to 1,158 square feet. The seller was represented by Lee & Associates, the buyers by Hendricks and Partners, Newport Beach. The acquisition was financed with a loan of $2.16 million from JP Morgan Chase Bank while title and escrow was provided by Chicago Title. The property is managed by S.O.S. Management and Property Services Inc.
Other Real Estate Sales
Cassidy Turley San Diego announced the following transactions:
• A private investor purchased a 3,123-square-foot retail building at 1459 Garnet Ave. from Thomas E. Owens for $1.14 million. Cassidy Turley represented the seller in the transaction. The building was leased on a long-term basis to the 10-year-old Hoboken Pizza and Beer Joint Voit Real Estate Services represented the buyer.
• PRPB Holdings purchased an 8,960-square-foot industrial building at 929 Rancheros Drive in San Marcos, from Sage Family Trust and Lambert Family Trust for $851,200. Cassidy Turley San Diego represented the buyer. in the transaction. Colliers International represented the seller.
• Corder Family Emeryville Properties LP purchased a 5,170-square-foot office building at 2741 Alpine Blvd. in Alpine from Tysma Family Trust for $850,000. Cassidy Turley represented the seller. The buyer's representation was not disclosed.
• Cushman & Wakefield announced the sale of the El Cortez Retail Condominium, at 702 Ash St. in Downtown San Diego, for $1.4 million, to Crown Investments LLC. The seller was ABAC No. 2 LLC. Cushman & Wakefield represented the buyer. The seller was represented by Colliers International. The 3,664-square-foot retail space is comprised of five retail condo units and is located on Cortez Hill. The building is fully occupied by Artisans Hair Studio, The Little Yoga Studio, Uptown Cleaners, Gourmet Mart and Sole Luna Café. The El Cortez Hotel, built in 1927, has since been refurbished and now functions as a collection of modern residential condominiums.  Most recently, the building was added to the National Register of Historic Places in January of 2002.
Jeff Turner Heads General Contractors Group
Jeff Turner, vice president and San Marcos district manager of Flatiron, has been elected president of the San Diego chapter of the Associated General Contractors of America. Turner and other board members will be installed on Jan. 24. Turner was chair of the association's Government Relations and Infrastructure PAC in 2012. Turner has been with Flatiron for more than eight years and has more than 30 years of construction experience. His construction career began in 1980 as a craft worker for Daley Corp. He joined Flatiron as an area manager and became district manager in 2008, overseeing all operations in the San Diego area.
The Daily Business Report is produced by SD METRO.
Contact: Manny Cruz (619) 287-1865. manny@sandiegometro.com.