Daily Business Report — Dec. 4, 2012
Inauguration Day
Mayor Bob Filner Promises
To Empower Neighborhoods
Bob Filner promised to implement his vision of empowering neighborhoods when he was sworn in Monday as the city's 35th mayor during an inauguration ceremony in Balboa Park.
New Council President Proposes
Tax Hike to Fix Infrastructure
Councilman Todd Gloria, also sworn in to another four-year term, was elected City Council president and proposed a city tax increase to take care of millions of dollars in infrastructure projects. Filner did not respond to the proposal, nor did any of the other council members.  Also
sworn in were City Attorney Jan Goldsmith, returning council members Marti Emerald and Sherri Lightner and newcomers Mark Kersey and Scott Sherman.
Filner, a former 10-term congressman from the South Bay, defeated departing Councilman Carl DeMaio in last month's general election to succeed Jerry Sanders. He based his campaign on giving power at City Hall to neighborhoods instead of what he called Downtown special interests. "The major focus of my administration will be to put our neighborhoods first," Filner told an overflow audience at the Balboa Park Club. He said in his 15-minute address that he wanted community plans to be completed; to revitalize infrastructure; improve emergency services in areas affected by the 2003 and 2007 wildfires; and to make every neighborhood "safe to live, work and play."
Gloria said he would maintain the council's fiscal discipline and make reforms passed in recent years permanent. He also said he would be aggressive in pushing for infrastructure improvements, try to end homelessness in Downtown and spruce up Balboa Park for its 2015 centennial.
Normal Heights Apartments Sold for $3.65 Million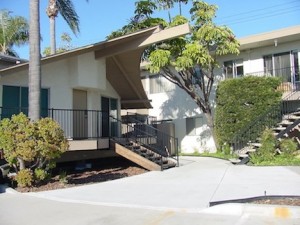 Blue Corner Capital has purchased a 20,758-square-foot, 32-unit apartment complex at 3162 Monroe Ave. in San Diego for $3.65 million. The sellers were Double RP Investments and AMB Capital.. Blue Corner Capital already owned one-third of the property as a tenant- in-common. Blue Corner purchased the remaining ownership interest as part of a 1031 exchange. Built in 1972 by Ray Huffman, the property is located in the Normal Heights neighborhood. The building was designed as a two story courtyard style project that offers a mix of 26 one-bedroom/one bathroom units and six two-bedroom/one-bathroom units. The sellers were represented by Rita Lancaster-Hannah of Colliers International. The buyer was represented by Lancaster-Hannah.
North Park Apartments Sold for $1.3 Million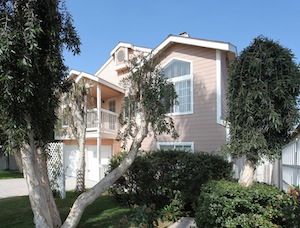 William and Anna Hicks have purchased a 5,554-square-foot apartment building at 4114 Swift Ave. in North Park for $1.3 million. The sellers were the Carolyn A. Kutzke Trust, Karen Ann Kapp Trust and Evanne D. Lill Trust. The seven unit, gated building is comprised of one one-bedroom/one-bathroom, five two-bedroom/one-bathroom, and one three-bedroom/one-bathroom units. Building amenities include fireplaces in each unit, common laundry room, both open and covered onsite parking. Units were at 100 occupancy at the time of sale. Brokers in the transaction were Colliers International and Achievers Realty.
Kyocera Mexicana Receives 'Clean Industry' Certification
Kyocera Mexicana S.A. de C.V.  announced that it has achieved "Clean Industry" certification from Mexico's Federal Environmental Protection Agency, PROFEPA (Procuraduria Federal De Protection Al Ambiente). The agency verifieds compliance with environmental legislation through inspection and audits. The certification is issued at two-year intervals and the 2012 honor marks the third consecutive period for which Kyocera has achieved certification. Kyocera Mexicana manufactures solar modules, liquid-crystal display components and ceramic semiconductor packaging that powers consumer products for both the Mexican and North American markets.
Marty Lorenzo Joins Mintz Levin Law Firm
Marty B. Lorenzo has joined the law firm of Mintz, Levin, Cohn, Ferris, Glovsky and Popeo as a member of its corporate and securities section in San Diego. A major in the Marine Corps Reserve, Lorenzo is the latest addition to the office. Lorenzo serves as outside general counsel for the Asian Pacific Islander American Scholarship Fund, the nation's largest nonprofit organization devoted to providing college scholarships for Asian Americans and Pacific Islanders. He also serves as a founder and co-chair of the Military and Veterans Committee of the National Asian Pacific American Bar Association, which advocates for the legal needs and interests of the Asian Pacific American community.
Bridgepoint Education Makes Executive Changes
Vickie Schray has been promoted to the position of senior vice president of regulatory affairs and public policy and Dr. Jane McAuliffe has moved into the role of executive vice president of external affairs/chief academic officer at Bridgepoint Education Inc. Schray's experience includes time working with the U.S. Department of Education, where she served the senior policy analyst in the Office of the Under Secretary of Education and the acting deputy assistant secretary in the Office of Postsecondary Education. In her new role, Schray will report to McAuliffe, who will oversee Bridgepoint Education's external affairs department.
Naval Base San Diego Holds Holiday Lights Open House
Naval Base San Diego invites the general public to attend the second annual Holiday Lights Open House Dec. 14 from 6:30 to 9 p.m. The base will open its gates to allow military and civilian traffic to drive along a marked waterfront route to view ships' holiday decorations, to tour designated U.S. Navy ships and to attend a Holiday Festival. Admission is free and families are welcome. Attendees hear entertainment by the Navy Band Southwest and meet sailors from various Navy commands. Gate 2, located on Harbor Drive near the NASSCO ship yard and the main gate located on 32nd street will open at 6:30 p.m.
***********************************************
Movers & Shakers
We're seeking nominees for our sixth annual Metro Movers awards. Please submit your nominations by Dec. 13 to Rebeca Page at rebecapage@sandiegometro.com or fax to her at (858) 759-5755 or mail to
SD METRO at P.O. Box 3679, Rancho Santa Fe, CA 92067.
---
The Daily Business Report is produced by SD METRO. Contact: Manny Cruz (619) 287-1865. manny@sandiegometro.com.
---