Daily Business Report — Jan. 18, 2013
San Diego County Jobless Rate Drops
Nonfarm employment up by 700 jobs over the month and up 20,300 over the year
The unemployment rate in San Diego County dropped to 8.1 percent in December — down from 8.4 percent in November and the 9 percent rate recorded a year ago, the state Employment Development Department reported today. California's jobless rate, by comparison, was 9.7 percent for December and the nation's unemployment rate was 7.6 percent.
Between November and December:
Total nonfarm employment increased from 1,270,600 to 1,271,300, a gain of 700 jobs. Agricultural employment declined by 900 jobs, or 9.8 percent. Trade, transportation, and utilities recorded the greatest month-over gain, adding 1,900 jobs. Retail trade (up 1,800) accounted for roughly 95 percent of the job growth in this sector. Wholesale trade increased by 200 jobs, while transportation, warehousing, and utilities declined by 100 jobs.
Three other industries also added jobs over the month. The most notable gains came from educational and health services (up 1,700). Health care and social assistance (up 1,700) contributed to all of the growth in this sector.
Six nonfarm sectors recorded month-over job losses. The most significant losses came from leisure and hospitality (down 1,100); government (down 900); and other services (down 700).
Between December 2011 and December 2012:
Total nonfarm employment increased by 20,300 jobs, or 1.6 percent. Agricultural employment remained unchanged over the year. Professional and business services posted the greatest year-over gain, adding 7,000 jobs. Administrative and support and waste services increased by 5,100 jobs, followed by an additional 1,700 jobs in professional, scientific, and technical services. Management of companies and enterprises added 200 jobs. Seven other industries also added jobs over the year. The most significant came from trade, transportation, and utilities (up 4,300); educational and health services (up 3,500); and leisure and hospitality (up 2,800). Manufacturing (down 2,000) was the only sector to post year-over job losses. Durable goods (down 1,400) accounted for most of the decline, followed by non-durable goods (down 600).
Equinox Report Identifies County's
Quality of Life Strengths, Weaknesses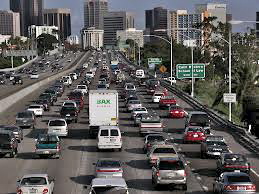 San Diegans drive more than residents of Los Angeles — spending nearly 40 hours a year stuck in traffic, while transit usage is at a low 3 percent. Those are a few of the findings of the fourth annual San Diego Regional Quality of Life Dashboard released by the research group Equinox Center. But other signs are encouraging, the report says:
• Air quality continued to improve: the number of unhealthy days for the elderly and children decreased and is significantly lower than neighboring counties.
• Renewable energy was a winner: renewable energy sources make up 20 percent of total energy sales and solar installations increased on average by 46 percent.
• While still sluggish, job growth is promising: for the first time since 2008, employment began to increase in 2011, with a gain of about 15,000 jobs.
• Municipal action on climate change moved in the right direction: jurisdictions have completed baseline greenhouse gas emission inventories and many have joined together to create action plans.
Improvements needed:
• Consumption of water has increased: average per capita water use increased, from 130 gallons to 133 gallons per day in 2012.
• The southern part of the county is still threatened by poor water quality: closures related to Tijuana River pollution make up two thirds of the advisory and closure postings due to health risks in the county.
• The high cost of living threatens the region's competitiveness: about half of all renters and homeowners spend more than 30 percent of their income on housing.
NAIOP San Diego Presents Breakfast with the Mayor
NAIOP San Diego, the Commercial Real Estate Development Association, will host its seventh annual breakfast with the mayor on Feb. 5. Mayor Bob Filner's focus on neighborhoods, job creation and making government services efficient and effective, as well as setting a new tone for the city, will be part of the dialogue at the breakfast. It will be held from 7:30 to 9 a.m. at the La Jolla Marriott, 4240 La Jolla Village Drive. Cost: Advance Price Members $40; $65 for nonmembers; $80 at the door. Attendees may register and pay on-line at www.naiopsd.org/events. For more information, call Karen Burges at (858) 509-4110.
Chamber Study Measures Veterans' Impact on San Diego County
As the third largest county in the nation for veteran residents and the most popular destination for new veterans returning home, San Diego County plays a tremendous role in helping young veterans find employment opportunities and integrate into civilian life, the San Diego Regional Chamber of Commerce says in a new report. The report finds that San Diego County's veterans stand out in terms of age and service era. In addition to being one of the largest counties with veteran residents, San Diego is the No. 1 destination in the nation for newly returning veterans.
Report Highlights:
• About 73 percent of the county's veteran population lives in the city of San Diego and 20 percent live in the Oceanside-Escondido area.
• San Diego County veterans that are between the ages of 18 and 35 are almost double that of national figures.
• San Diego veterans make up 8.3 percebt of the total local labor force between the ages of 18 and 64.
• As of 2007, 13.5 percent of San Diego County firms were either veteran-owned or joint veteran/non-veteran owned.

-
San Diego's Largest Neonatal Intensive Care Unit Opens
at Sharp Mary Birch Hospital for Women & Newborns
Sharp Mary Birch Hospital for Women & Newborns announced the completion of its Level III Neonatal Intensive Care Unit renovation and expansion. The project, part of a $30 million, hospital-wide renovation, makes Sharp Mary Birch's NICU the largest such unit in San Diego. The NICU is a highly specialized unit focused on the care of premature and ill newborns. Here, tiny patients receive around-the-clock, state-of-the-art care from a multidisciplinary team specially trained to provide life-saving care to babies born full-term to those as small as 13 ounces. "A great feature of our new private rooms is the opportunity for new parents to begin caring for their babies more independently with the support of the nursing staff," said Paul Wozniak, neonatologist and medical director of neonatal medicine.
San Diego Private Bank Establishes Newport Private Bank
San Diego Private Bank announced that it has established a new division, Newport Private Bank, and opened a new office at the Airport Business Center in Irvine. Darlene Ryan has been appointed market president of the Newport Private Bank division. Stephanie Juneau joins as senior vice president/relationship manager, Rick Mercadefe as vice president/relationship manager and Troy Kendrick as assistant vice president/account executive.
Francine Busby Elected Chairwoman
of San Diego County Democratic Party
City News Service — Former congressional candidate Francine Busby will be the new chairwoman of the San Diego County Democratic Party, succeeding Jess Durfee, the organization announced Thursday. Busby was elected to the position at a meeting Tuesday night, and Durfee was named chairman emeritus. The Cardiff by the Sea resident fell short in three congressional campaigns against Republicans and later became executive director of Run Women Run, an organization that mentors, trains, and supports pro-choice women for elected office. Durfee served as the county Democratic leader for nine years.
Chuck Pryatel Promoted at SCS Engineers
Chuck Pryatel has been promoted to the position of San Diego regional environmental services leader for SCS Engineers. In his new role, Pryatel is responsible for the environmental services practice in the San Diego area office. The office also provides solid waste engineering and contracting services in the region. Pryatel has 32 years of experience specializing in environmental regulatory affairs. He acts as regulatory agency liaison, resolving environmental issues related to the management of hazardous materials. Pryatel earned a bachelor's degree from UC San Diego and a master's degree from San Diego State University.
Suzanne Roten Becomes Brown Law Group Partner
Brown Law Group in San Diego has named attorney Suzanne K. Roten as partner. Roten, who has more than 22 years of legal experience, joins founder Janice Brown and partner Stacy Fode as the third partner in the law firm.  Brown Law Group also recently added Meagan Garland Sterling, its eight attorney. Roten has worked with Brown Law Group clients in the areas of federal and state employment law compliance. Previously, she worked as a senior associate with the law firm of Wimberly Lawson Wright Daves & Jone, and with the law firm of Heller Ehrman White & McAuliffe in Palo Alto and Menlo Park. She earned her law degree from the UCLA School of Law.
**********
The Daily Business Report is produced by SD METRO.
Contact: Manny Cruz (619) 287-1865. manny@sandiegometro.com.