Daily Business Report — Jan. 25, 2013
San Diego's Maintenance Backlog
Could Be Approaching $1.1 Billion
City News Service — The city of San Diego's backlog of maintenance and capital improvement needs — pegged variously at
$800 million to $900 million — could actually be approaching $1.1 billion, according to an estimate released Thursday. In a memo to his colleagues, Councilman Mark Kersey said the prior assessments did not include work needed on Petco Park, Qualcomm Stadium, sidewalks, piers and water and wastewater improvements. Additionally, he noted, a consultant suggested the city build 10 new fire stations in order to meet fire and safety standards. The information is contained in a proposed work plan for the City Council's Infrastructure Committee, which will meet for the first time on Monday. Kersey chairs the new panel.
"As we begin to emerge from our fiscal woes, we have to address cracked sidewalks, pothole-filled roads, broken storm drains and city facilities that are falling apart in our neighborhoods," Kersey said. "We will be creating strategies to deliver projects faster, going into the communities to listen to their priorities, and developing a five-year plan to fix our long-neglected infrastructure needs." San Diego was unable to fully fund its infrastructure needs over the past decade because of its fiscal woes. City workers have picked up the pace in fixing up streets over the past two years, however.
Kersey will propose that the city properly catalogue its infrastructure needs, identify one-time financial investments to pay for those needs, establish the best management and fiscal practices, determine acceptable service levels and performance measures, hold community meetings to take public input, and come up with a policy that defines how a need becomes a project.
Water Wars Spreading
Riverside's water authority hired a consultant for $15,000 a month to work with key stakeholders in San Diego, like the Chamber of Commerce and the Economic Development Council, and the San Diego County Water Authority is wondering why, KPBS reports. The allegation is that Riverside is siding with the powerful LA-based Metropolitan Water District, which is locked in a legal battle with San Diego over water rates. CWA claims MWD is overcharging San Diego for water to the tune of $50 million a year. Dennis Cushman of CWA said the Riverside agency, the Eastern Municipal Water District, appears to be trying to undermine the San Diego water agency's position among local business leaders. "That's why we're seeking a court order," he said, "so we can understand exactly what it is they are doing in our community in San Diego, who's is behind it, and what's their message." The Riverside water agency released a statement saying they are acting independently of Metropolitan. But they pointed out their customers stand to pay $180 million more in water rates to back fill the void if San Diego wins the lawsuit.
SeaPort Airlines to Start New Service
Between Imperial Valley and San Diego
SeaPort Airlines has announced new nonstop service between El Centro/Imperial and San Diego beginning on March 1. The new service will include five roundtrips per day, Monday through Friday; two on Saturdays; and two on Sundays. "This new service will provide a quick, convenient alternative to the current commute between Imperial Valley and the metropolitan San Diego area," said Thella F. Bowens, President/CEO of the San Diego County Regional Airport Authority. SeaPort Airlines is offering an introductory fare of $39 each way. The fare is available for purchase through March 31 on every seat and every flight between El Centro/Imperial and San Diego through June 30.
Cubic Transportation Systems
Acquires NextBus Inc. of Emeryville
Cubic Transportation Systems has acquired NextBus Inc. from Webtech Wireless Inc. for $20.75 million. NextBus provides real-time passenger information systems. "Transit agencies and their communities worldwide are racing to utilize information more effectively — optimizing their resources and providing intelligent travel information to their riders," said Steve Shewmaker, president of Cubic Transportation Systems. "Since 1996, NextBus has been a pioneer and a market and technology leader at the forefront of this trend. As part of the Cubic family, NextBus will have the additional resources and capabilities to expand more rapidly while adding further depth to our own Nextcity vision, which emphasizes better utilization of information, wireless communications and mobile devices as key technologies for the future of public transit." NextBus' customers include the major metro systems in Los Angeles, Toronto, San Francisco, Washington D.C. and Boston.
Rosner Brown Firm Hires Staff Accountant
Trent Brown, a graduate of Point Loma Nazarene University, has been named staff accountant at San Diego-based financial firm Rosner Brown Touchstone & Keller. Brown had been interning at the company for the past year. Brown graduated from Point Loma Nazarene with honors.  He holds a bachelor's degree in accounting.
Patric Stillman Named Executive Director of Space 4 Art
Space 4 Art, an artist collective in East Village, has named Patric Stillman to the post of executive director. Stillman is a senior nonprofit executive with an extensive background in operations, development and marketing. Since 1999, Stillman served as co-founding officer, board member and chief operating officer for Media Arts Center, best known as the producer of the annual San Diego Latino Film Festival. He is involved in numerous media projects, including Speak City Heights and Teen Producers Project.  Stillman was instrumental in the creation of that organization's Digital Gym in North Park. He currently also serves as co-founder of the San Diego Student and Independent Film Foundation, which is cooperatively networking San Diego's film community.
Hotel Del Coronado to Celebrate 125th
Anniversary With Series of Local Events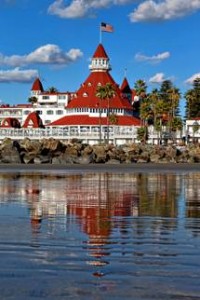 Hotel del Coronado will celebrate its 125th anniversary in 2013 with a series of community events, charitable promotions and guest packages. A yearlong calendar of activities has been planned for The Del's milestone anniversary, including citywide historic exhibits, special events and a variety of historic-themed offerings. The centerpiece of the celebration is the release of a new 208-page history book, "Hotel del Coronado History," featuring over 440 images, most of which have never been published before, including behind-the-scenes snapshots of Marilyn Monroe during the 1958 filming of "Some Like It Hot!" There are also personal photos and reminiscences that go back to the resort's earliest days, along with vintage memorabilia such as menus and brochures.
The Del will also honor its 125th anniversary with a year-long partnership with United Through Reading, a national military program that helps ease the stress of separation for military families by having deployed parents read and record books for their children to watch as DVDs. To help fund this effort, the hotel will donate $1.25 from the sale of each new history book and sponsor additional fund-raising events throughout 2013.
Conceived in the 19th century, Hotel del Coronado came of age during the Victorian era, debuting as one of the country's preeminent seaside resorts, drawing moneyed guests from across the country and around the world.
************
The Daily Business Report is produced by SD METRO.
Contact: Manny Cruz (619) 287-1865. manny@sandiegometro.com.