Daily Business Report — Jan. 30, 2013
Paseo La Jolla Luxury Townhomes Completed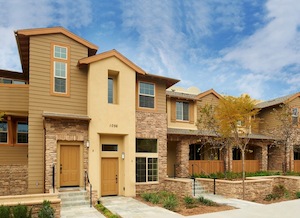 Construction has been completed at Paseo La Jolla, a new, 24-unit luxury townhome community at the corner of Herschel and Pearl in La Jolla. The property has opened a new two-bedroom model home and sales center. Fifty percent of the homes have already sold and move-ins have begun, according to Brad Termini, co-CEO of Zephyr Partners, a real estate development and investment company. Most of the homes have private rooftop terraces with views of La Jolla and the Pacific. Prices range from the low $700,000s to just over $1 million. Sizes range from 1,000 square feet to more than 1,600 square feet with one-, two- and three-bedroom floor plans. The two-bedroom plus den, three-bath model home can be viewed by potential homebuyers. Paseo La Jolla and the sales center are at 1056 Pearl Street, No. 23, La Jolla.
Payne School at SDSU to Hold Open House For
Hospitality and Tourism Management Program
The L. Robert Payne School of Hospitality & Tourism Management at San Diego State University will host an open house for its master's degree in hospitality and tourism management program on Feb. 6 from 5-7 p.m. at the Courtyard  Marriott Mission Valley, 595 Hotel Circle S., San Diego, in the Synergy Conference Room. Last summer, the Payne School began offering the master's degree that is designed for working hospitality, tourism, meetings and events, gaming, and recreation professionals who have at least five years of demonstrated leadership in the profession. The first student cohort is halfway through the program and applications are being accepted for the 2013-14 cohort that starts in August. This customized program is administered by SDSU's College of Extended Studies. Most of the curriculum is delivered in an online format and includes an intensive week on campus at both the beginning and end of the 17-month program.
San Diego River Conservancy Names New Executive Officer
Kevin McKernan, executive officer of the Coachella Valley Mountains Conservancy, has been appointed executive officer of the San Diego River Conservancy. McKernan will assume the position in March. The Conservancy is a division of the California Natural Resources Agency that works to restore the San Diego River and connect habitat conservation areas, parks and public open spaces in the watershed. McKernan has directed Coachella Valley and Mountains Conservancy's $25 million land acquisition and conservation programs. He is California director for the Conservation Land Foundation and manages the Yurok Tribal Environmental Program.
Best Best & Krieger Promotes 2 Attorneys to Partner
Best Best & Krieger has promoted two of its San Diego attorneys to partner — Shannon M. Erickson and Lindsay D. Puckett.
Erickson represents a variety of clients in business and general civil litigation matters, with a focus on real property and title insurance issues. Her clients include title insurance and escrow companies, banks, religious organizations, public and private entities and individuals. Erickson provides pro bono legal services as a volunteer for the Casa Cornelia Law Center, a San Diego-based nonprofit that assists victims of human and civil rights violations. Erickson received her law degree from the University of San Diego School of Law in 2004 and joined BB&K in 2006.
Puckett's practice focuses on environmental and land use law. She represents public and private clients in litigation matters involving the California Environmental Quality Act, the National Environmental Policy Act, state and federal endangered species laws, coastal development, alternative energy, water issues and American Indian law issues. She served for four years on the board of the Solana Center for Environmental Innovation, a nonprofit in Encinitas. Puckett received her law degree in 2004 from the Washington University School of Law in St. Louis. She joined BB&K in 2006.
************
The Daily Business Report is produced by SD METRO.
Contact: Manny Cruz (619) 287-1865. manny@sandiegometro.com.