Daily Business Report — Jan. 31, 2013
State Breathes New Life Into the
Horton Plaza Park Project Downtown
A revised decision by the state Department of Finance means that the Horton Plaza Park project will move forward. The project was one of many threatened by the end of redevelopment in 2011. And it was one of several that Civic San Diego (successor to the Centre City Development Corp.) and the city of San Diego have resubmitted to the state for reconsideration following initial objections to their funding. .
"This reversal of a prior decision is very good news. Horton Plaza Park will be a great benefit to our Downtown neighborhood and an asset in which all San Diegans can take pride," said Council President Todd Gloria. "My hope is strengthened that other impactful projects will gain similarly positive reviews from the state." Horton Plaza Park will be a 1.3-acre urban park. It is scheduled to be complete by spring 2014.  Located at Fourth Avenue and Broadway, the park was set aside in 1870, redesigned in 1910, and last restored in 1985 at the time Horton Plaza shopping center opened. "As Downtown's residential population and workforce rapidly grow, the need for high-quality public open space is becoming ever more critical," said Jeff Graham, president of Civic San Diego."
California Sees Big Jump in Homes
Sold For $1 Million or More in 2012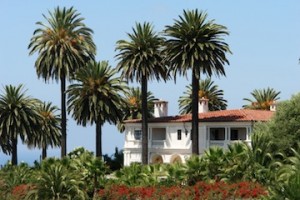 The number of California homes sold for $1 million or more rose to its highest level since 2007, fueled by a recovering economy, rising home prices and a record number of cash purchases, according to San Diego-based DataQuick. The number of homes sold for more than $5 million rose to an all-time high. A total of 26,993 homes sold for $1 million-plus last year, up 26.9 percent from 21,267 in 2011. It was the most sold since 42,502 homes crossed the million-dollar threshold in 2007. The all-time high was 2005, when 54,773 homes sold for $1 million or more. Last year's 26.9 percent year-over-year sales gain outpaced the state's market as a whole: Overall sales totaled 447,573, up 8.2 percent from 413,479 in 2011.
In La Jolla, there were 345 homes sold for $1 million or more during 2012 compared to 253 in 2011. The highest selling home sold for $15 million last year. In Del Mar, there were 225 sales of homes sold for $1 million or more compard to 189 in 2011. The most expensive home there sold for $7.5 million last year.
Virtually all home sales in some communities were in the $1 million-plus category. Among them were the following: Ross in Marin County; San Marino and Santa Monica in Los Angeles County; Los Altos in Santa Clara County; Atherton and Hillsborough in San Mateo County; and Rancho Santa Fe in San Diego County.
EarthRisk Technologies Establishes
New Headquarters in Downtown
EarthRisk Technologies, a company that conducts  research, analysis and visualization of extreme weather risk, has established new headquarters in Downtown San Diego. The new office is at 1111 Sixth Ave., Suite 402. The company doubled its staff in 2011 and in 2012 nearly doubled again, said EarthRisk CEZO John Plavan. EarthRisk serves the energy industry, agriculture and other sectors where information on extreme weather risk is critical. The company's  product, TempRisk, is a web-based platform that crunches more than 60 years of weather data to formulate the odds of cold snaps and heat waves up to 40 days in advance, a lead-time that is twice as long as any in the  industry, according to Plavan.
SDG&E Installing New Smart Grid Technologies
San Diego Gas & Electric is installing several smart grid technologies on the electric grid in the San Diego region that are creating a more resilient and responsive energy network for local residents, the Mission Times Courier reports.  These technologies include wireless sensors that automatically detect outages and other problems on the electric grid, and devices that smoothly integrate environmentally beneficial renewable energy. With the installation of these technologies, SDG&E is creating a more automated electric grid that promotes greater awareness of system conditions and can quickly respond to changes and events. In many cases, this grid will even be able to use this information to "heal" itself remotely or sense problems before they occur."San Diego's electric grid is becoming one of the most advanced and reliable energy systems in the nation," said David Geier, vice president of electric operations for SDG&E. "The grid can respond immediately to outages and is increasingly resilient to events, while being more sustainable overall through the integration of clean energy."
Cavignac & Associates Selects Executive Assistant
Sara Taylor has accepted the position as executive assistant for Cavignac & Associates, a San Diego risk management and insurance brokerage firm. Taylor will provide administrative support to agency executives and be responsible for data integration, marketing and public relations projects, social media and website maintenance. Her early career experience includes having served four years as executive assistant for The Irving Group, a commercial real estate broker representing tenants, and two years as an administrative assistant for Kids Korps USA, a nonprofit youth volunteer organization. A graduate of the University of Arizona, Tucson, Taylor holds a bachelor's degree in journalism.
Kristen Clement Promoted to CFO
for Capstone Advisors in San Diego
Kristen Clement has been promoted to chief financial officer for Capstone Advisors, where she will direct all of the San Diego-based company's real estate accounting operations, compliance and risk management, human resources and information technology functions. Clement joined the company in 2002 as controller and most recently served as vice president of accounting and operations. Her prior experience includes serving as vice president of finance and controller with Guild Mortgage Co., and working as a senior auditor with the San Diego office of Deloitte & Touche.  Clement graduated cum laude from San Diego State University with a bachelor's degree in business administration with an emphasis in accounting.  She is a Certified Public Accountant.
************
The Daily Business Report is produced by SD METRO.
Contact: Manny Cruz (619) 287-1865. manny@sandiegometro.com.