Daily Business Report — Jan. 8, 2013
Filner Introduces Staff Appointments
Mayor Bob Filner introduced the first two dozen appointments to his staff Monday, describing them as an energetic reflection of San Diego's diverse community, City News Service reports. The staff is half female, one-third Latino and 25 percent black, according to Filner. He said more than half have worked for him before, either when he was in Congress or serving on the City Council. They have a confidence in each other and an understanding that he runs an "intense" operation, the mayor said. "They all know what they're getting into," Filner said. "I think they have an energy and a competence that is unmatched."
The appointees include former Councilwoman Donna Frye, in charge of open government and transparency; longtime Filner aide Vince Hall, chief of staff; former H.G. Fenton executive Allen Jones, deputy chief of staff; Nelson Hernandez, deputy chief operating officer; and Irene McCormack, communications director. The city's chief operating officer, Jay Goldstone, is a holdover from the Jerry Sanders administration who agreed to stay on during the transition. Filner said Goldstone has warned him his departure could come sooner than expected. A national search is under way for a chief operating officer and a chief financial officer, Filner said. He said he also planned to hire executives to oversee energy, housing and veterans employment issues.
Businesses for Sale Transactions in
County Last Year Topped 2011 Sales
A total of 1,225 small businesses in San Diego County were sold during 2012, a small increase from the sale of 1,206 businesses the year before, according to the BizBen Index. The 100 business sales in December, however, dropped below sales of 111 businesses in December 2011. According to the BizBen Index, California last year posted the most small business for sale transactions in four years. A total of 14,368 small and mid-sized businesses were sold in California last year, the highest annual total since 2008, when 21,689 deals were completed.  The Index tracks transactions involving the sale of small businesses throughout the state.
BizBuySell.com, meanwhile, reports that the current median asking price of businesses for sale in San Diego is $172,500, down from $190,000 a year ago. The median cash flow, meaning the money that comes out of the business over the course of a year, is $79,000, versus median cash flows of $89,800 last year.
Wateridge Pavilion Office Building Sells for $9.2 Million
The three-story, 62,156-square-foot Wateridge Pavilion office building in Sorrento Mesa has been sold for $9.2 million to Fenway Properties. Western States Investment Group sold the property, which was built in 1986 and is currently leased to seven tenants: Verizon Wireless, Western Devcon Inc., Flores Lund Consultants, Quidel Corp., Verint, Syntricity and MindSpeed. Fenway Properties intends to move its offices to Wateridge Pavilion, taking the project to 100 percent occupied. CBRE San Diego represented the seller in the transaction.
South Bay Manor Apartments Go for $10.6 Million
Jack Kushner Administrative Trust has purchased the South Bay Manor Apartments, located at 1045-1051 4th Ave. in Chula Vista, for $10.625 million. The 70-unit apartment project, almost totally occupied, was sold by South Bay Manor LP. Built in 1988, South Bay Manor has four two-story buildings with a mix of two studios, 20 one-bedroom and 48 two-bedroom units totaling 54,732 square feet. The project features a pool, spa, landscaping and balconies or patios on a majority of the units. CBRE San Diego represented the buyer. Hendricks & Partners represented the seller.
Morena Boulevard Office Building Sold for $1.575 Million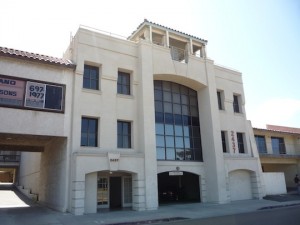 A two-story, 10,296-square-foot office building at 2437 Morena Blvd. in San Diego has been sold to SDHomes for $1.575 million. The seller was JT&T Inc. SDHomes intends an extensive renovation of the property, according to Cushman & Wakefield, which represented the seller in the transaction.
Special Elections for State Senate,
City Council Scheduled for March
Two special elections to fill the state Senate seat of Rep. Juan Vargas (D-San Diego), and the City Council seat vacated by Tony Young, were scheduled Monday for March. Vargas gave up his Senate seat after he won an election to replace Bob Filner, San Diego's new mayor. Gov. Jerry Brown scheduled a special election to fill his seat for March 12. If necessary, a runoff would be held on May 14. The City Council set its special election for March 26, deciding against holding the election on the same day. Doing so would have saved about $100,000 of the estimated $385,000 needed to hold a special election, but March 12 would not give candidates for the District 4 seat a full two weeks to collect the required 100 nominating signatures, City Clerk Elizabeth Maland said. If no candidate receives more than 50 percent of the vote, a runoff would be held within seven weeks of the March 26 vote.
Shirley Weber Appointed to Five Committees
Assemblywoman Shirley Weber (D-San Diego) has been appointed to five Assembly committees by Speaker John Perez. She was appointed to the appropriations, banking and finance, education, higher education and rules committees.
Lamplighter Theatre Returns to La Mesa
Lamplighters Community Theatre, a La Mesa institution for 75 years, has signed a lease for space at La Mesa Village Station to resume operations, possibly as early as March, La Mesa Courier reports. The theater on city-owned property was closed in 2006 to make way for the construction of La Mesa's new police station.Mike Habib and Alice Niewiadomski of Coldwell Banker in La Mesa represented Lamplighters in the transaction while Thomas Dechant of Pacific Coast Commercial represented Honn Properties, owner of the business center at Severin and Amaya Drive. Mark Loveless, Lamplighters president, said plans for the 90-seat theater have been drawn by Architect Paul Bedington and are ready to be submitted to the city for review and approval. "If the city approves the plans, we could be ready to open our first show in April," Loveless said. At its peak, the theater had 880 season ticket holders. Ticket prices will be $15 for students, seniors and active military and $18 general admission.
---
The Daily Business Report is produced by SD METRO.

Contact: Manny Cruz (619) 287-1865. manny@sandiegometro.com.
---