Daily Business Report-Jan. 4, 2013
San Diego Council to Appoint
Two New Port Commissioners
Each of the five cities regulated by the Unified Port of San Diego have representatives on the Port Commission. Coronado, Imperial Beach, Chula Vita and National City each have one commissioner. But the city of San Diego gets three. That's not enough to control the board, but enough to exert some influence. On Monday, the San Diego City Council will appoint two new members to the Port Commission from among six nominees, KPBS reports. They will each serve a four-year term. The new members will take the place of former commissioners Scott Peters, who was recently elected to Congress, and Lee Burdick, who has taken a job with San Diego Mayor Bob Filner. Port spokeswoman Tanya Castaneda said there will be plenty to deal with right away, including the proposed Convention Center expansion. "We're going to be bringing that to the Coastal Commission early this year," she said. "And that's an expansion that's very important to maintain our competitiveness as a group-meeting destination." This year, the Port will also focus on developing the Chula Vista Bayfront, as well as rejuvenating the cruise ship business and increasing both imports and exports of consumer goods.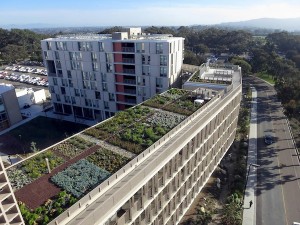 Spurlock Poirier designed the roof garden
Spurlock Poirier Landscape Architects
Receives Top Award for Urban Design
Spurlock Poirier Landscape Architects of San Diego has won the top honor from the American Society of Landscape Architects, San Diego chapter, for its work on the 3.5-acre outdoor space at a UC San Diego student dormitory. Honored in the commercial, institutional and urban design category at ASLA's 2012 design awards, the firm received the President's Award for its site design for the Charles David Keeling Apartments at UCSD's Revelle College. The project was selected out of 49 entries for its intricate system of vegetated roofs, drought-tolerant native plants, downspouts, channels and bioswales – all integrated with outdoor recreation and gathering spaces. The landscape's most distinctive feature is the system of above-ground stormwater collection that creates a series of streams with each rainfall and filters harmful pollutants that were previously piped directly to the ocean. The system includes an expansive roof with more than 4,000 plants that capture stormwater and provide thermal insulation.
Toni Atkins Gets Key Committee Assignments
Assembly Majority Leader Toni Atkins received key committee assignments from Assembly Speaker John A. Pérez. Atkins will join the Joint Legislative Audit Committee which is comprised of members of both the Assembly and the Senate and functions as the Legislature's watchdog committee to ensure fiscal responsibility and performance accountability by state programs.  Atkins has also been assigned to the Agriculture Committee, and will continue to serve on the Health, Housing and Community Development, and Veterans Affairs Committees.  Atkins retains her position as chair of the Assembly Redevelopment Working Group. The Legislature reconvenes on Jan. 7 for a new two-year session.
Two Chula Vista Mobile Home Parks Sold for $17.5 Million
Two contiguous mobile home parks in Chula Vista — Broadway Mobile Home Park at 350 Broadway and Terry's Mobile Home Park at 677 G St. —have sold for a total of $17,575,000. Kleege Capital and G.G.P. Holdings LLC purchased Broadway Mobile Home Park for $2,975,000. Robert and Brenda Kleege and 411 Quail Run Partners LP purchased Terry's Mobile Home Park for $14,600,000.  Colliers International represented the seller, Terry Enterprises. Broadway Mobile Home Park has 71 spaces and two apartments. Terry's Mobile Home Park has 194 spaces, two apartments and an R.V. storage lot.
Three-Building Complex in Little Italy
A three-building complex at at 2228 and 2266 Kettner Blvd. and 925 W. Juniper St. in Little Italy has been sold for $3,022,650 by GTF Properties. The buyer, Wonderhaus LP, plans to renovate the spaces into office and retail uses. Colliers International represented the seller.
Two Apartment Complexes Sell for $77 Million
Terra Nova Villas and Canyon Villa, located at 440 East H St. and 601 Telegraph Canyon Road in Chula Vista, have been sold for a total of $77 million. Jackson Square Properties is the buyer. BRE Properties Inc. was the seller. The sale was brokered by Cushman and Wakefield. Terra Nova  Villas, a two-story walk-up community, was built in 1985. The complex has 233 one- and two-bedroom units. Amenities include a pool and spa, fitness center, covered parking and on-site laundry facilities. Canyon Villa, a three-story community, was built in 1981. The property has 183 one-, two- and three-bedroom units. The 35-building complex has a pool and spa, fitness center, business center, in-unit washers and dryers and garages.
Uptown District Shopping Center Sold for $81.1 Million
Regency Centers Corp. of Jacksonville, Fla. has purchased the Uptown District shopping center in Hillcrest, home to Ralphs and Trader Joe's, for $81.1 million. The two retailers occupy 95 percent of the 148,638-square-foot center.
Legal Hitch Could Keep Thousands in District 4
From Voting for a New San Diego Councilmember
A perfect storm of unusual election events may keep some residents of the newly redistricted San Diego City Council District 4 from being able to vote for their own City Council representative, according to a KPBS report. Former San Diego City Council President, and District 4 representative, Tony Young is leaving the council, which means San Diego has less than 90 days to hold a special election to replace him. But redistricting has changed the boundaries of District 4, and city code mandates voters live within the old boundaries of District 4. That means anyone living in the newly added neighborhoods of Redwood Village and Rolando Park cannot take part in the district election. Council President Todd Gloria called the result "an unfair situation." He said he's still researching the reasoning behind this code. "It's my understanding that it was at some direction of the state of California," he told KPBS. Redwood Village and Rolando Park residents have been vocal in calling this situation unfair, and Gloria said he agrees with them. "When it brought to my attention, I just couldn't believe it," he said. "But it's what we're dealing with." Some residents of the new District 9 will also get to vote in the District 4 election, which means voting for a representative who will never represent them.
USD Graduates Engineer a Brighter Sudan for the New Year
Nearly 20 years ago Mou Riiny was forced to flee his village in south Sudan during the civil war there and walk 500 miles to Kenya before coming to the United States. Now he and several other University of San Diego engineering graduates have returned to install a solar power system and bring electricity to the village for the first time. The six-kilowatt system will create a sustainable model that can be repeated for villages throughout the developing world. Electricity carries with it a world of benefits for rural communities, including the alleviation of poverty, illiteracy and opportunities for entrepreneurship. "It will power charging stations so people can charge batteries, laptops and cell phones," said Riiny, one of the "Lost Boys of Sudan" who resettled in Boston before attending USD to study electrical  engineering.
Riiny and several other students designed the system for their senior project before graduating in 2011. Political, safety and other issues have complicated the installation, but in late December USD graduates Michael Rios, now studying at the University of Wisconsin, and Emmett Perl, now studying at UC Santa Barbara, traveled some 6,500 miles to meet Riiny in Sudan and complete the $70,000 project. The entire USD campus community, along with San Diego businesses, became involved in the effort, contributing funds and materials. Following the arrival of the materials for the project last fall, the village and the entire region "is filled with excitement that I cannot capture in words," Riiny said.
---
The Daily Business Report is produced by SD METRO.

Contact: Manny Cruz (619) 287-1865. manny@sandiegometro.com.
---