Daily Business Report — Feb. 14, 2013
San Diego Hospice Announces Plans to Close
Patients, staff and equipment to be transferred to Scripps Health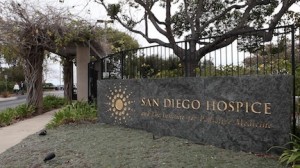 San Diego Hospice announced Wednesday its plans to cease operations over the next 60 to 90 days as it seeks court approval for a plan that would allow for a smooth transition of patient care, and some of its employees to Scripps Health. The plan was part of a set of motions, the first of which will be filed in U.S.  Bankruptcy Court in San Diego by attorneys for San Diego Hospice. "This is obviously a difficult decision for all of us associated with San Diego Hospice. The plan we have put forward will allow us to take immediate steps to stop incurring debt, which increases every day we remain in operation," said Kathleen Pacurar, CEO of San Diego Hospice. "We are taking this course after many months of discussions to resolve our financial challenges, including talks with Scripps asking for their help. Our decision to file bankruptcy was based on our need to maintain continuity of patient care as we worked through the details of this plan.  We believe this is the best course for our patients and their families, and for San Diego Hospice." Terms of the motions include Scripps' offer to purchase San Diego Hospice's hospital and headquarters building and to hire enough San Diego Hospice employees to care for current patients. Funds from the building purchase would be used by San Diego Hospice to pay for its operations and avoid taking on more debt as it winds down its business. The deal would also include Scripps' purchase of San Diego Hospice's electronic medical record license and associated computer equipment to allow for a smooth transition of patient care. On Feb. 4, Horizon Hospice in Poway joined Scripps, providing Scripps with a license to offer hospice care.
Foley Corporate Center Sells for $18 Million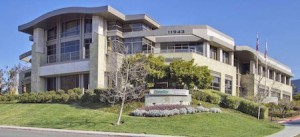 The Foley Corporate Center, a 34,600-square-foot offife building at 11943 El Camino Real in San Diego, has been purchased for $18 million by Carmel Valley Office Building LLC. Diamante Office Building LLC was the seller. The building was built in 2005 and is fully leased. Tenants include Comerica Inc., Global Media Outreach and Fidelity Investments. Cushman & Wakefield represented the seller in the transaction. The buyer was represented by Colliers Internationa. The building is located in the Del Mar Heights area.
The Lofts at Moonlight Beach in Encinitas
Sold to MB Lofts and Equity Two Properties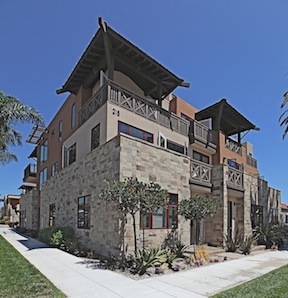 The Lofts at Moonlight Beach, a newly constructed, 40,709-square-foot Class A mixed use building in Encinitas, has been sold for an undisclosed price to two separate entities. The residential component was acquired by MB Lofts LLC and the retail section was acquired by Equity Two Properties LLC. The seller was receiver Gregg Williams of Trident Pacific Real Estate Group. The Lofts at Moonlight Beach — two three-story buildings — was built in 2008. It has 15 two-bedroom residential condos totaling 27,498 square feet and 15 retail suites totaling 13,211 square feet. It is located two blocks from Moonlight Beach in Encinitas. The residential units feature open floor plans with large patios, balconies and expansive ocean views. The retail component has street-level visibility fronting Coast Highway with current tenants including Curan & Curan Law Offices, Image Salon, Deep Tan, Mosaic Sports Management, The Den, The Insurance Store, Perspectives, Lofty Bean and Matthew Pequignot Legal Services. Only three retail suites totaling 2,682 square feet are currently available for lease. CBRE San Diego arranged the sale on behalf of the seller/receiver, Trident Pacific Real Estate Group. The buyers were represented by Gregg Seaman, the managing member.
San Diego State to Create Public Relations Center
in Honor of Longtime PR Professor Glen Broom
San Diego State University will launch a fundraising campaign on Feb. 22 to raise funds to establish the Glen M. Broom Center for Professional Development in Public Relations — named after a towering figure in public relations who taught PR at the university for 30 years. Hosted by SDSU President Elliot Hirshman and Dean Joyce Gattas, the launch event will bring together donors, public relations alumni and faculty, and community professionals to recognize Broom and his lasting impact on SDSU and the public relations profession. Gattas said there is no other center in the nation like the one to be established at SDSU. "It is a model for excellence, just like Glen Broom. No one has done more for the public relations profession than Glen, and we are so fortunate to be able to continue his tradition of excellence," said Gattas.
Staff of the center will administer an internship program for public relations students, offer student advising and career development, provide training programs for working professionals, and support research activities for faculty and graduate students. It will be housed in the School of Journalism & Media Studies, where Broom is professor emeritus. During his tenure at SDSU, Broom mentored more than 3,000 public relations students while helping to create one of the top 10 public relations programs in the country.
Key founding donors to the Center include: Scott Allison (Allison + Partners), Gordon Broom (HeplerBroom LLC), Diane Gage Lofgren (Kaiser Foundation Health Plan Inc.), Scott Pansky (Allison + Partners), MaryLee Sachs (Changing MO LLC), Larry Thomas (retired, The Irvine Co.) and Bill Trumpfheller (Nuffer, Smith, Tucker).
City Attorney Says Pension Ruling
Places Obstacles on Initiatives
City News Service — A ruling by a state Public Employment Relations Board administrative law judge against voter-passed Proposition B is part of an effort to make it harder for citizens to place pension reform initiatives on the ballot in the future, San Diego City Attorney Jan Goldsmith charged Wednesday. The city attorney told reporters that he would go to court to defend the pension reform ballot measure, which was passed with two-thirds support last June. He said the City Council gave him that authority last year. Goldsmith and other backers of the proposition have characterized PERB as an agency biased in favor of public employee unions. The city attorney said the ruling was expected. PERB Administrative Law Judge Donn Ginoza ruled Monday that the city failed to negotiate in good faith with its public employee unions before Proposition B was placed on the ballot. The decision, which was released late Tuesday, is not binding on the city but does set up a future court battle.
Cavignac & Associates Names Account Administrator
Justin Jameson has joined Cavignac & Associates as an account administrator. Jameson has 10 years of experience in the insurance industry. Before joining the company, he was an individual and family sales and service administrator for Schulte Insurance in Encinitas. Jameson also was an account manager for Drake Insurance Services in Newport Beach and worked two years for Custom Benefit Consultants in Rancho Santa Margarita, where he was the sales manager for agency clients employed by Costco. He also worked as a renewals manager for Health Savings Associates Insurance Services in Sorrento Valley.
Nettleton Strategies Forms Alliance with Clean Tech Advocates
Nettleton Strategies has formed an salliance with Clean Tech Advocates, a new Sacramento-based government affairs firm focused on "collaborating with other clean technology pioneers, innovators and environmental policy-shapers. Nettleton Strategies President Carl Nettleton said the alliance brings his firm a sresource for connecting clients with the state's regulatory, legislative and funding initiatives related to clean technology. Clean Tech Advocates principals include Linda Adams, former secretary of the California Environmental Protection Agency; James "Jim" Boyd, former executive director of the California Air Resources Board and vice chair of the California Energy Commission; Patrick Leathers, veteran attorney/lobbyist and co-founder of the Emerging Technologies Institute; and Elaine Berghausen, former deputy assistant secretary for bonds and grants at the California Resources Agency.
CyberHive San Diego Formed to Fund
Start-Up Firms that Focus on Security
A group of business and government leaders have formed a nonprofit organization called CyberHive San Diego to fund start-up companies that focus on security. Modeled after CyberHive/Cyber Maryland, it is the first of its kind on the West Coast. Select firms will receive up to $200,000 in start-up capital in addition to business and research mentoring, according to the organization. "Incubation organizations are not new, but focusing exclusively on security is," said Darin Andersen, a founder of CyberHive San Diego and general manager of Norman AS, a cyber threat detection company. "Cyberattacks are escalating at an alarming pace." Andersen said the organization will provide mentoring, office and lab facilities and business development services aimed at accelerating the success of participating companies. The organization is led by a board of advisers from numerous organizations including General Dynamics, Qualcomm, CyberHive/Cyber Maryland, NSA, and SINET. CyberHive has reached out to more than 100 San Diego area organizations for financial and mentoring support, and has the capability to incubate as many as 20 applicants, according to Andersen. CyberHive San Diego offices are Downtown at 1855 First Ave., Suite 103.
************
The Daily Business Report is produced by SD METRO.
Contact: Manny Cruz (619) 287-1865. manny@sandiegometro.com.