Daily Business Report — Feb. 19, 2013
Palomar Health to Unveil New
Method for Monitoring Patients
Devise was built by San Diego's Sotera Wireless
Palomar Health will unveil a wireless device this week that will change the way patients are monitored in the hospital, KPBS reports. The device, built by San Diego's Sotera Wireless, will let doctors and nurses keep track of
patient vital signs on tablets and smart phones. The ViSi Mobile monitoring system features a mobile phone-sized monitor that's attached to a patient's wrist. The device is fed information through sensors on the chest and thumb, and a blood pressure cuff. It provides continuous monitoring of a patient's vital signs, including heart rate, blood pressure and oxygen levels. Orlando Portale, Palomar's chief innovation officer, said patients will like the new system. "Since we're able to monitor them non-invasively now and continuously, we don't have to interrupt them at all, we don't have to send a nurse in the room on a periodic basis," Portale explained. Doctors say real-time data will give them earlier warning of when a patient is going downhill. All of the information will be stored in the patient's electronic medical record. Palomar will be the first health system in the world to use the technology.
SR Commercial Acquires Industrial
Buildings in Vista and Oceanside
SR Commercial, a privately held commercial real estate investment company, has completed its 10th acquisition in the San Diego market. The firm acquired a 125,000-square-foot, Class A industrial warehouse in Vista for $10 million, and a 32,842-square-foot industrial building in Oceanside for $2.9 million. The Vista property was originally built for Dimension One Spas in 2001 and has been the company's headquarters for the past 12 years. Dimension One is occupying the building through November under a sale and leaseback agreement. The Oceanside building is currently occupied by the Oceanside Police Department and a gymnastics studio. The new owner has secured a seven-year lease with the Oceanside Fire Department for part of the building.
David Pohl Joins San Diego Office
Of Environmental Science Associates
David Pohl has joined the San Diego office of Environmental Science Associates as senior water quality program manager. Pohl has 28 years of engineering planning, design and construction management experience. He holds a doctorate degree and master's degree in geo-environmental engineering from Drexel University and bachelor's degrees from Lehigh University. Pohl is a registered professional engineer in California, Maryland and Pennsylvania, and is a LEED Accredited Professional and a member of the American Society of Civil Engineers.
Head of Balboa Park Centennial Stepping Down
To Contend With Tourism Marketing District Issues
The head of the nonprofit group responsible for producing the 2015 Centennial Celebration in Balboa Park announced Monday he is stepping down. Mike McDowell, the CEO of Balboa Park Celebration Inc., will return to his position as CEO of the San Diego Lodging Industry Association. McDowell felt the need to return to his previous position because he needs to focus on issues with the marketing arm of San Diego's tourism industry, the San Diego Tourism Marketing District, said Gerry Braun, a spokesman for Balboa Park Celebration. Although the San Diego City Council approved a long-term agreement with the marketing district last year, Mayor Bob Filner has said he wants a new agreement. Filner also is keeping millions of dollars from the marketing district's budget by refusing to sign off on their contract. "Now (Mike McDowell) is going back to his first love and really the issue that he's championed in San Diego for a decade or more, which is the tourism industry," Braun said. "So he's really just returning to his strong suit as a business leader." Braun said McDowell would not be leaving his post with Balboa Park Celebration if it were not for the TMD issues. McDowell's departure could be seen as another setback for the 2015 Centennial Celebration. Organizers had originally hoped to complete a renovation of the park's Plaza de Panama in time for the celebration, but that project was recently killed by the courts. Planning was put on hold again when $459,000 appropriated by the City Council for the celebration was not transferred to the Balboa Park Centennial Celebration. (KPBS report)
Gloria and Faulconer Receive BOMA's
2012 Public Official of the Year Award
The San Diego Building Owners & Managers Association presented its 2012 Public Official of the Year Award to Council President Todd Gloria and Council Member Kevin Faulconer. "BOMA's Public Officials of the Year are those who work beside BOMA to better San Diego's commercial real estate industry," said Mike Hansen of CBRE and BOMA San Diego president. "This award is for both of their efforts during the approval and construction of the Connections Housing Project located in the heart of Downtown at the corner of Sixth Avenue and A Street." The award also reflects their leadership and their willingness to work with BOMA to develop specific regulations designed to ensure the project would not create adverse impacts for BOMA members.
Turner Construction Promotes Lori Ann Stevens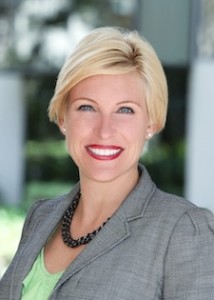 Turner Construction Co. has promoted  Lori Ann Stevens to business development manager in its San Diego office. She is responsible for managing projects within Turner's special projects division. Stevens oversaw the renovation of the former World Trade Center building into Connections Housing Downtown, a facility for the homeless. She previously worked as assistant vice president of Lowe Enterprises, and served as a lecturer for civil engineering classes at San Diego State University, where she received her master's degree in civil engineering.
************
The Daily Business Report is produced by SD METRO.
Contact: Manny Cruz (619) 287-1865. manny@sandiegometro.com.