Daily Business Report — Feb. 25, 2013
Celebration Scheduled to Mark Completion
Of Repairs to Lily Pond in Balboa Park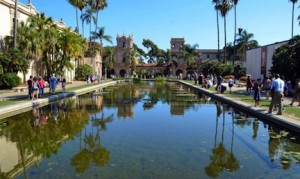 City News Service — A celebration was scheduled for this morning to mark the completion of repairs to the iconic lily pond at Balboa Park. The nearly 100-year-old pool between El Prado and the Botanical Building was damaged last summer when a nighttime water fight that attracted a couple hundred people got out of control. The event was staged at a large fountain, but people trampled landscaping and piping when they ran to the lily pond to fill up their water gear. The $50,000 in repairs included rebuilding 27 boxes that house lily pads and installing new pipes, according to Friends of Balboa Park spokeswoman Jennifer Jenkins. The project's cost was covered through donations of cash and services, she said. The restoration of the lily pond took place during the winter because the lilies are dormant. New varieties of the flower were added to the pond, according to Jenkins. She said the city's Parks and Recreation Department also took the opportunity to conduct 25-year maintenance work, including relining the rim with new plaster, checking the concrete floor for cracks and replacing pipes that weren't damaged in the water fight.
Historic First: National City Mile of Cars
Elects Woman as President of the Board
For the first time in its 59-year-old history, the National City Mile of Cars will have a woman serving as its board president. Jenifer Ball, 33, general manager of Ball Auto Center's Acura franchise, will serve a two-year term as board president, concluding at the end of 2014. She is the third-generation Ball family member to serve on the board of the auto group, which was formed in 1954. Her father, John Ball, 59, was president in 1983-84. Her grandfather and John's father, Dave Ball, 80, served on the boasrd in the 1980s.  Also serving on the 2013-2014 board: Perry Falk of Perry Ford as vice president; Bill Cumming of Ron Baker Chevrolet as secretary; and Rudy Erm Jr. of South Bay Volkswagen as treasurer. Cumming is a past MOC board president, but the 2013-2014 term will be both Falk's and Erm's first time on the MOC board.
After graduating in 2001 from the University of San Diego with a bachelor's degree in communications, Jenifer Ball started working part-time in the business office of the family-owned dealership. She then continued working at the dealership and, over the years, has worked in the dealership's customer service, parts and service departments. Today, she oversees the Acura operations.
10News Poll: 47 Percent Disapprove
of Mayor Bob Filner's Performance
Bob Filner's approval rating after nearly three months as San Diego's mayor is 40 percent, according to a scientific 10News poll.

 Of 500 adults sampled, 47 percent disapproved of the former congressman's performance and 13 percent had no opinion.

 His approval was lowest among adults under 35 years old at 29 percent, Republicans at 23 percent and conservatives at 28 percent, according to the poll. It was highest among those 55 or over at 47 percent, blacks at 63 percent, Democrats at 56 percent and liberals at 48 percent.

 Filner's time in office has been marked by public verbal confrontations with City Attorney Jan Goldsmith and City Council President Todd Gloria, and a slowdown in moving legislation and municipal contracts to the City Council for approval.
Grand Opening Set for Student Services
Center at San Diego Mesa College Campus
A ceremonial grand opening was scheduled for this morning for the new Student Services Center at San Diego Mesa College, the latest facility funded by the San Diego Community College District's $1.555 billion Propositions S and N construction bond program. The $45.8 million Student Services Center is a new four-story, 85,000-square-foot complex centralizing student services on the Mesa College campus, providing a one-stop shop for all student services and departments. The new center was awarded a LEED Gold Certification by the United States Green Building Council. Speakers at the 10:30 a.m. ceremony include Pamela Luster, president of the college and Constance Carroll, chancellor of the San Diego Community College District. The center was designed by Architects Hanna Gabriel Wells.
Ramona Ambulatory Care Center Completed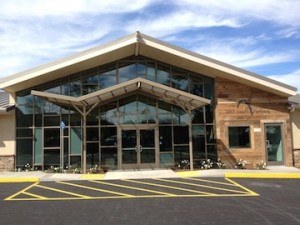 C.W. Driver has completed construction on Palomar Health's Ramona Ambulatory Care Center, a new $4.5 million satellite clinic in Ramona. When open to the community in March, the 7,600-square-foot, single-story outpatient medical clinic built on an acre of land will expand the health care services for the Ramona community. Designed by San Diego-based Mascari Warner Architects, the facility will provide adult and pediatric primary care physician services, urgent care, radiology services and outpatient diagnostic testing as well as specialty services and programs, such as health education and prevention classes. Built near the corner of 13th and Main Streets, the clinic, which will be co-owned by Palomar Health and developer Pacific Medical Buildings, will have Arch Health Partners, an affiliated physician organization of Palomar Health, as its exclusive tenant.
NewSchool of Architecture and Design
Team Wins First Place in Competition
A team of NewSchool of Architecture and Design students won first place in the category of Virtual Design and Construction at the Associated Schools of Construction (Regions 6 and 7) 2013 Student Competition near Reno, Nev., Feb. 5–8. NSAD competed against student teams from 11 other schools around the country. The school's winning team was composed of six students from the architecture and construction management programs.   Team members: Jake Jaenicke, Vincent Macias and Joe Kovac, who are enrolled in the Bachelor of Science in Construction Management program; and Steven Hansen, Antonio Barragan and Athena Dadiz, who are in the Bachelor of Architecture program. Other students involved in the competition were German Morales, who served as a team alternate, and Charles Marion, who served as student coach. Both are enrolled in the Bachelor of Science in Construction Management program. The team's faculty coach was George Welch, who is interim chair of NSAD's construction management department.
Oakbrook Ridge Apartments Sells for $18.8 Million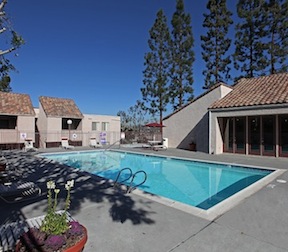 Oakbrook Ridge Apartments at 8512 ½ Paradise Road in Spring Valley has been sold for $18.8 million to Charles Frederick Kreutzkamp. The seller was R&V Management Corp. The two-story building was built in 1985 and has 128 units in a mix of one-, two- and three-bedroom sizes. The property includes a swimming pool, spa, picnic area and playground. Cushman & Wakefield represented both parties in the transaction.
Free Rental Owner Education Seminar
The San Diego County Housing Authority is offering a free Rental Owner Education Seminar on April  18. Topics include Section 8 Program Overview, Waiting List Preferences, Housing Quality Standards, Family Responsibilities, Landlord Responsibilities, and Section 8 Lease-up process. The Seminar will be held at 2 p.m., with registration at 1:30 p.m., at the offices of the Housing Authority, 3989 Ruffin Road, San Diego. Rental owners should contact Felecia Mack at felecia.mack@sdcounty.ca.gov to confirm attendance.
************
The Daily Business Report is produced by SD METRO.
Contact: Manny Cruz (619) 287-1865. manny@sandiegometro.com.