Daily Business Report — Feb. 28, 2013
Filner Has New Plans for Plaza de Panama
Mayor Bob Filner said he's nearly ready to announce a plan to get the cars out of Balboa Park's Plaza de Panama. He said he'd do that by changing traffic patterns and removing parking spaces, KPBS reports. "Because it's not a permanent thing like the bridge, we can have an experiment, does it work or doesn't it work?" Filner told reporters. If it doesn't work, we'll change it." The mayor said parking would be eliminated in the Plaza de Panama, including parking for the disabled and valet parking. He has asked the City Council for $500,000 to implement the plan, which would come from a budget surplus projected for the current fiscal year. City Council President Todd Gloria, who represents the park, said before Filner made his remarks that no one has briefed him on the plan and suggested that area residents would react negatively if left out of the loop.The mayor subsequently said the City Council and residents will have the opportunity to vet his proposal.
SDSU Renames Entrepreneurial Management Center
In Honor of Longtime Supporter Leonard H. Lavin
San Diego State University's Entrepreneurial Management Center has been named the Lavin Entrepreneurship Center in honor of long-time supporter Leonard H. Lavin. SDSU President Elliot Hirshman, College of Business Dean Michael Cunningham and other dignitaries took part in a ribbon-cutting ceremony with Lavin, the 93-year-old founder and chairman emeritus of Alberto Culver. He has been a major supporter of SDSU's Entrepreneurial Management Center for years. He came from his home in the Chicago area to participate in the ribbon cutting. "Leonard Lavin's knowledge and insight have fueled the spirit of entrepreneurship across the San Diego State community," said Cunningham. The center, along with the management department in the College of Business, are the anchors of SDSU's entrepreneurship curriculum — featuring programs, workshops, internships, resources and events that help students transform their classroom learning into practice.
Mission at Sunbow Apartment Complex Sells for $90 Million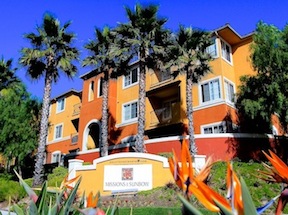 Missions at Sunbow, a 336-unit apartment development in Chula Vista, has been sold for $90 million to R&V Management. The property at 825 East Palomar St. includes a clubhouse, barbecue and picnic area, fitness center, swimming pool and spa, a movie theater, garages and covered parking. The transaction was brokered by Cushman & Wakefield. "At $90 million, the sale price of Missions at Sunbow reflects the strength and continued growth of the Chula Vista and South San Diego multifamily market," said John Chu of Cushman & Wakefield.
High Profile Principal Will Now Run
The Troubled SD School District
Voice of San Diego — Principal Cindy Marten has gotten a lot of attention while leading City Heights Central Elementary and her efforts have now gotten her the top job for the San Diego Unified School District. 

It was a swift hire for a district that has often spent months stuck in transitions while cycling through chief administrators over the last decade. Bill Kowba, the current schools superintendent, announced this week that he would be gone at the end of June.

Kowba now has several months to bring Marten up to speed on the internal challenges that make up the district's chronic budget deficit. Management has committed to address financial problems without laying off teachers but also while honoring planned across-the-board salary increases, and adding days back on to the school calendar.

Marten will also be the boss of a new chief financial officer, whose recent remarks about waste in the district provoked both applause and an angry backlash, even from the head of the school board.
Urban Land Institute Develops Cross-Border
Relationship with Tijuana Econonic Group
Urban Land Institute's San Diego-Tijuana District Council is celebrating the signing of an agreement that will advance its efforts to catalyze cross-border collaboration for land planning. On Feb. 22, the district council's executive director, Mary Lydon, and Consejo de Desarrollo Economico de Tijuana director David Moreno signed a contract for a downtownTijuana Technical Assistance Panel (TAP), to be coordinated and executed by ULI representatives. TAP programs are comprised of experts from ULI's local District Council in various fields that focus on a real estate or land use issue facing a San Diego region community. Panelists provide creative recommendations for solutions that advance innovative land planning principles. TAP chair Greg Shannon of Sedona Pacific led the effort to form this agreement and will assemble the TAP panel of experts. In Mid-March, the panel will travel to downtown Tijuana to meet with city representatives andstakeholders and to tour the study area. The plan will focus on revitalizing the downtown area, or Zona Centro, which has declined dramatically since the loss of American tourists following 9/11 and the drug cartel violence, as well as the hurdle of re-entry delays at the border.
Economic Trends to be Focus of Panel Talk
The Pacific Southwest Association of Realtors will host "Ice Cream for a Better Economy," a panel discussion featuring local economists, real estate experts and business leaders discussing updates and forecasts on local economic trends, from 1:30 to 3:30 p.m. on Thursday, March 7, at PSAR's South County Service Center, 880 Canarios Court in Chula Vista. The event is open to the public. Cost to attend is $15 per person for PSAR members and $20 per person for nonmembers. Online registration is available at www.psar.org, or phone (619) 421-7811. Speakers will include Selma Hepp, senior economist, California Association of Realtors; Susan Baldwin, senior regional planner and project manager of the Regional Housing Working Group at San Diego Association of Governments; Cindy Gompper Graves, CEO, South County Economic Development Council; and Jo Marie Diamond, president/CEO, East County Economic Development Council.
Pacific Southwest Association of Realtors
Announce Board of Directors for 2013
The Pacific Southwest Association of Realtors has announced its 2013 board of directors. Jeff Campbell of Pacific Sotheby's International Realty will serve as 2013 president. Board officers include: Bob Olivieri of Coldwell Banker West as president-elect; David Bradstreet of Bradstreet Investments as treasurer/secretary; and Peg Tischer-Keeley of Keller Williams Realty, who served as president during the 2012 merger year. Directors include: Ron Boland of Realty World-Parkway; Nikki Coppa of Coldwell Banker West; Sarah Heck of Coldwell Banker West;  Norma Scantlin of Realty World-Parkway; RoseAnne Wood of Pacific Sotheby's International Realty; Sam Calvano of Middlesex Inc.; Minerva Garcia of Coldwell Banker West; Laura Lothian of Pacific Sotheby's International Realty; and, Karen Young of RE/MAX Hometown Realtors. Linda Collier of Wells Fargo Home Mortgage is serving on the board as an affiliate director. It will be the first full calendar year for the 1,900-member association following the merger of the El Cajon-based East San Diego County Association of Realtors and the Chula Vista-based Pacific Southwest Association of Realtors.
USS Freedom to Depart San Diego
Friday to Deploy to Asia-Pacific Region
The U.S. Pacific Fleet announced today that the Navy's first littoral combat ship USS Freedom will depart her homeport of San Diego on Friday and deploy to the Asia-Pacific region. Making good on a pledge made initially by former Secretary of Defense Robert Gates, Freedom will deploy to Southeast Asia and Singapore for eight months. Marking the first of many planned rotational deployments to the Western Pacific for the new LCS platform, Freedom will conduct maritime security operations with regional partners and allies.

 Freedom will be initially manned by her "Gold" crew of 91 sailors to include mission package personnel and an aviation detachment to operate an embarked MH-60 helicopter. Cmdr. Timothy Wilke is the ship's commanding officer.
************
The Daily Business Report is produced by SD METRO.
Contact: Manny Cruz (619) 287-1865. manny@sandiegometro.com.