Daily Business Report — Feb. 4, 2013
Cubic Corp. Announces Management Changes
Cubic Corp. has named William W. Boyle, 78, as its chief executive officer and announced other changes to its management team. Boyle was executive vice president and chief financial officer of the company and had been serving as interim president and CEO following the death of Walter Zable, founder and CEO, last June. Boyle has been with Cubic since 1983, joining as chief financial officer. He previously held financial management positions with General Electric, Occidental Petroleum and the Wickes Corp. The Cubic board also appointed Bradley H. Feldmann to the newly created position of president and chief operating officer, and promoted John "Jay" D. Thomas, 59, to executive vice president and chief financial officer. Stephen O. Shewmaker, 62, president of Cubic's transporation systems division, was given the additional title of executive vice president of the corporation. Feldmann, 51, has been the president of Cubic's defense systems division since 2008. The division employs 1,600 people around the world. From 1999 to 2000, Feldmann served as senior corporate vice president and COO at Comptek Research Inc. Thomas has been senior vice president finance and corporate development since June 2012.
Japan Airlines Resumes Nonstop Flights to Tokyo
San Diego's nonstop flight to Tokyo has resumed service with an alternate aircraft, a Boeing 777. Japan Airlines has announced it is resuming Monday, Wednesday and Friday service through Feb. 17. Schedules thereafter will be announced as soon as they are confirmed. Boeing's 787 Dreamliner aircraft have been grounded because of fire risks associated with battery failures.
San Diegan Appointed to Public
Employment Relations Board
Eric Banks, 41, of San Diego, has been appointed to the California Public Employment Relations Board by Gov. Brown. Banks has been partner at TenPageMemo LLC since 2013. He served in multiple positions at the Service Employees International Union, Local 221 from 2001 to 2013, including adviser, president and director of government and community relations. Banks was policy associate for state government affairs at the New York AIDS Coalition from 2000 to 2001. He worked in multiple positions at the Southern Tier AIDS Program from 1993 to 2000, including director of client services, assistant director of client services and case manager. The position requires Senate confirmation and the compensation is $128,109. Banks is a Democrat.
San Diego Dumps Red Light Camera Program
City News Service — The city of San Diego ended its red light camera program Friday at 15 busy intersections around town. The cameras have been operating for years, but a contract with the private firm that operates them expired overnight and the equipment was shut off. "It seems to me that such a program can only be justified if there are demonstrable facts that prove a raise of safety awareness and decrease accidents in our city," Mayor Bob Filner said at a news conference. "The data, in fact, does not really prove that." The program and its nearly $500 fine "breeds cynicism and disrespect for the law because people think they're being ripped off," the mayor said. Filner said the majority of the fine revenue, 70 percent, goes to the state of California, and the city of San Diego has to share the remainder with the vendor. The city reaped $1.8 million in revenue in the last fiscal year, but the red light program cost nearly as much, he said.
Covario Names Advisory Chief Marketing Officer
James Latham has joined Covario Inc. as its advisory chief marketing officer. Latham was formerly the CMO of OpenText, Canada's largest software company, and previously held the strategy marketing and analytics leadership role for McCann-Erickson's relationship marketing division. Latham has served on the board for the last six months. Latham holds a bachelor's degree in computer science from The State University of New York.
Woodbury University Appoints Graduate Coordinator
Woodbury University has appointed Hector M. Perez as graduate coordinator of the School of Architecture's Master of Architecture program in San Diego. Perez, who received architecture degrees from MIT and Cal Poly San Luis Obispo, is the owner and principal of De-Arc. He's exhibited and lectured internationally, including Mexico and Italy, and his firm is the recipient of numerous awards, including honors and citations from the AIA in San Diego, Santa Barbara, and Ventura. Prior to joining Woodbury as full-time faculty, he taught at the New School of Architecture and Design, Woodbury, and SCI-Arc. Perez will head the new two-year and a three-year masters programs on the San Diego campus.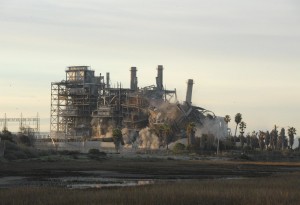 South Bay Power Plant Crumbles
The 165-foot-tall South Bay Power Plant crumbled into history on Saturday, following a successful implosion along the Chula Vista bayfront. Strategically placed charges brought down the mammoth structure. For the first time since the late 1950s, the area around the South Bay Power Plant has an open view to South San Diego Bay. The land can now be used for future parks, as designated by the Port of San Diego and the city of Chula Vista as part of the Chula Vista Bayfront Master Plan. The plant's implosion, facilitated by Dynegy South Bay, is an essential step toward redeveloping formerly industrial bayfront land. Dynegy South Bay said the implosion was successful, accomplishing its goal of safely toppling the steel-and-concrete boiler units to allow for efficient demolition while protecting air and water quality. The Chula Vista Bayfront Master Plan will guide the transformation of more than 500 acres of waterfront property. The plan lays out a future world-class resort and conference destination, complemented by a mix of residential, retail, and more than 240 acres of parks and nature preserve. The project is expected to generate about 21,000 tons of recyclable metals and up to 3,400 tons of other non-hazardous waste, which will be recycled and salvaged when feasible.
************
The Daily Business Report is produced by SD METRO. Contact: Manny Cruz (619) 287-1865. manny@sandiegometro.com.