Daily Business Report — Feb. 6, 2013
Big Jump in the Number of Homes
Bought With Cash in San Diego County
The number of San Diego County homes purchased with cash last year climbed by 32.4 percent over 2011 as all-cash sales in California reached an all-time high. DataQuick of San Diego said the transactions were the result of high investor interest, a difficult mortgage environment and perceived higher returns on investment.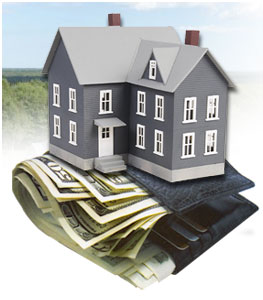 In San Diego County, a total of 9,857 homes were purchased with no mortgage financing in 2011. Last year, that jumped to 13,052 all-cash transactions.
Statewide: A total of 145,797 condos and houses were bought without mortgage financing in 2012, a record. That was up from 125,812 in 2011, the previous high. In 2007, as the housing market deflated, cash sales totaled 39,731, according to DataQuick. "It's clear that a lot of today's housing market recovery is being fueled by people putting their own money into homes," said John Walsh, DataQuick president. "Some cash buying is part of a normal housing market, but we're at twice that normal rate. There are always some rich people, also buyers from abroad, but in a normal market the biggest single category would be retirees and empty-nesters who are down-sizing. Today, a lot of buyers are chasing what they view as the deal of a lifetime.
Cash purchases accounted for a record 32.4 percent of California's overall home sales last year, up from 30.4 percent in 2011 and more than double the annual average of 15.6 percent since 1991, when DataQuick's cash statistics begin.
Construction Will Start Friday on New
Affordable Housing Project Downtown
BRIDGE Housing will celebrate the construction start of its latest affordable development in San Diego at a groundbreaking ceremony on Feb. 8 at 11 am. The event takes place at 929 9th Ave. at the southeast corner of Ninth Avenue and Broadway in Downtown San Diego. Situated on an infill site that was once a parking lot, Celadon at 9th & Broadway will include 250 rental apartments for individuals and small families. Eighty-eight of the apartments are targeted to be supportive housing, including 25 units for youth aging out of foster care and other special-needs residents; 63 apartments will serve frail seniors under the Program of All-Inclusive Care for the Elderly. The apartments will be affordable to residents with annual incomes of up to $38,700 for a two-person household. Monthly rents will range from about $408 to $729, depending on factors such as income, household and apartment size.
The project made headlines in late 2012 when it appeared that $20.2 million of the project's funding, sourced from redevelopment dollars, was in jeopardy. Ultimately, the state Department of Finance determined that the funding obligation was enforceable, allowing BRIDGE to move forward and close on construction financing last month.
Irwin Jacobs Says Balboa Park Project is Over
City News Service — The next chapter in the life of a stalled plan to remove cars from the center of Balboa Park could be mediation between its proponents and detractors, but the project's chief financial backer said Tuesday he is now on the sideline. In an interview on KPBS radio, Qualcomm co-founder Irwin Jacobs said he has told members of the Plaza de Panama Committee that the project is over. "We made a great effort, we came up with wonderful plans, we came up with an environmental impact review that passed all court muster," said Jacobs, who donated millions of dollars to shepherd the project through its design and environmental impact report. "At this point, it's over." On Monday, a San Diego Superior Court judge tossed out the City Council's approval of the project. Judge Timothy Taylor ruled that the City Council wrongly found that the project area has no reasonable beneficial use if the plan does not go forward, a finding needed to alter a historic resource. "At this point I'm just a bystander," Jacobs said.
After the ruling was announced, San Diego Mayor Bob Filner reiterated his offer to get the various sides talking again in mediation. In the radio interview, Jacobs said no alternatives proposed by SOHO would accomplish the goals set out for the project.
Bruce Coons, executive director of SOHO, followed Jacobs on the KPBS program and said a half-dozen other plans are "really good options" and another six or so would be acceptable. "It;s not a hard thing to do, it's really not," Coons said.
Zephyr Partners to Build Luxury
Beachfront Condos in Carlsbad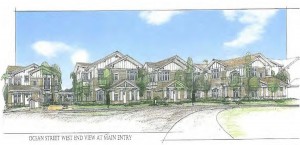 Zephyr Partners, a San Diego-based real estate development and investment company, has announced plans to build a new enclave of luxury beachfront condos in downtown Carlsbad. The 35-unit community at 2303 Ocean St., existing within 13 two-story buildings, will feature two- and three-bedroom homes and 2.5 to three baths with approximately 2,210-square feet of living space. Every home will have a private deck and access to a common clubhouse/meeting facility with barbecue area, swimming pool, spa and fitness center. The condos will have views of Buena Vista Lagoon and the Pacific Ocean. "We've developed these units with a number of variations and style plans, which brings more choices and diversity to the project," said Brad Termini, co-CEO of Zephyr Partners. The seven luxury buildings will be developed over a single level, 82-space subterranean parking garage. The property, currently home to a 51-unit apartment complex, was purchased by Zephyr Partners in 2011 and is expected to begin construction in June 2013. Equity is being provided by George Smith Partners.
San Diego Supervisors Consider Ramona Solar Farm
San Diego County Supervisors will decide Wednesday on the fate of a solar project near Ramona. Ramona residents hope to dim the enthusiasm for a project that would cover about 43 acres of land with huge solar collectors, KPBS reports. Residents plan to air their concerns when supervisors hear the issue. Sol Orchard LLC  is developing 19 large scale solar farms in San Diego County. In Ramona, the company wants to put huge solar collectors on 110 acres of land that is currently a dairy farm. Donna Myers is a member of the group Citizens for a Rural Ramona. She lives right across the street from the project site and she says calling it a farm does not make it so.
"It's not a farm," said Myers. "It's an industry. And they should not have ever labeled it as a farm. Most people don't know the distinction. Sol Orchard. It sounds like something that's farming, but it isn't."
Scripps Health to Begin Offering Hospice Services
Scripps Health announced that it will begin offering hospice services to its patients and the community. Scripps acquired Horizon Hospice, a licensed hospice providing in-home services countywide, based in Poway. Horizon will continue to operate under its name with Scripps management. Working with the California Department of Public Health, Scripps intends to integrate Horizon fully into Scripps Health. "Our decision to offer these vitally important services ensures access to high-quality hospice care, not only for Scripps patients, but for patients and families across the region," said Chris Van Gorder, Scripps president and chief executive officer.
Wakeland Adds Two New Staff Members
Wakeland Housing & Development Corp. has named Robert G. "Buddy" Bohrer vice president and director of development, and Elaine Camuso as communications manager. Bohrer has more than 20 years of real estate and development experience, with emphasis on land acquisition, financial underwriting and entitlement for both residential and commercial development. Previously, he held development roles at real estate and construction companies, including Pardee Homes, Standard Pacific Homes and the H.G. Fenton Co. Camuso developed and implemented strategic communications and public affairs outreach for a wide variety of clients in the retail development, energy, transportation and nonprofit sectors at one of San Diego's top public affairs agencies. Before entering public relations, Camuso worked as a news reporter and editor at a wire service.
William Keitel to Retire from Qualcomm Inc.
William "Bill" Keitel has decided to retire as Qualcomm Inc.'s executive vice president and chief financial officer. He will be replaced by George S. Davis, executive vice president and CFO of Applied Materials Inc., on March 11. Keitel will continue as chief financial officer until that time, and will then assist with the transition and serve as special advisor to the CEO for the remainder of the calendar year. Davis has served as a chief financial officer for more than six years. Keitel has served as Qualcomm's CFO for the past 11 years.