Daily Business Report — Feb. 8, 2012
Scripps Research Institute Professor Elected
To the National Academy of Engineering
Donna Blackmond, a professor in the Department of Chemistry at The Scripps Research Institute, has been elected to the National Academy of Engineering. She is the first from the institute to become a member. The academy cited Blackmond for "kinetic and mechanistic studies of catalytic organic reactions for pharmaceuticals, and for studies of chiral amplification." Blackmond was among 69 newly elected members and 11 foreign associates announced by the National Academy of Engineering. Election to the NAE is among the highest professional distinctions in the field. Academy membership honors those who have made outstanding contributions to engineering research, practice, or education or significant contributions to the engineering literature.
Westbrook Manor Sold for $2.9 Million
Westbrook Manor at 379 Orlando St. in El Cajon has been acquired for $2.9 million by Trumbull Revocable Inter Vivos Trust. The seller was Westrook Manor LLC. The sale was arranged by CBRE San Diego, which had sold the complex to Westbrook Manor LLC in 2007 for $2.7 million. Built in 1973, the 21,560 square foot complex is comprised of 25 one-bedroom and six two-bedroom units. Westbrook Manors features a swimming pool, laundry facility, professionally landscaped grounds and patios on select units.
Council Committees Overlook Important
City Functions, Budget Analyst Reports
City News Service — The seven committees that vet proposals and issues before they are heard by the full San Diego City Council overlook some important city assets and functions, the city's Independent Budget Analyst said Thursday. In a report on San Diego's committee system, the IBA said the portfolios of the various committees do not include oversight of Qualcomm Stadium, the San Diego Convention Center or the city's new redevelopment arm, Civic San Diego. The IBA report, scheduled to be presented next Wednesday, said the committees also don't encompass equal opportunity contracting, homeland security, pension issues, Petco Park, public outreach via the city's website or television channel, or the Tourism Marketing District. The report said the listed areas "are significant enough that they should be called out specifically under a committee."
Dealing With Psychopaths in the Workplace
San Diego Employers Association is sponsoring a Feb. 27 program on "Dealing With Psychopaths in the Workplace" featuring a presentation by Dr. Simon Croom. The luncheon will be held at Qualcomm Stadium, 9449 Friars Road, San Diego. Networking and lunch is from 11:15 a.m. to noon and the program is from noon to 1 p.m. Cost is $65 for members and $75 for nonmenbers. To reserve, call (858) 505-0024 or visit www.sdea.com. Croom will talk on personality types and personality disorders in the workplace.
Apprenticeship Scholarship Program for the
Construction Industry Accepting Applications
Applications are now open for the Apprenticeship Scholarship Program sponsored by the Associated Builders and Contractors of San Diego. The program can help high school students in the county achieve their career goals in the construction industry, says the association. Any high school senior currently enrolled in a construction class or training program in San Diego County is eligible to apply. As part of the scholarship, students who are selected receive a basic set of tools for their trade, and all technical manuals, codebooks and classroom textbooks throughout the apprenticeship at no cost, a value of several thousand dollars. For more information, visit www.abcsd.org.
SDSU to Offer Minor in Entrepreneurship
The College of Business Administration at San Diego State said it will offer a minor in entrepreneurship beginning in the fall. The entrepreneurship minor will be available to all undergraduate students regardless of their major area of study. The entrepreneurship minor was championed by Alex DeNoble, director of SDSU's Lavin Entrepreneurship Center and SDSU management professor and entrepreneurship expert,  Congcong Zheng. "Through the resources of the College of Business and the Lavin Entrepreneurship Center, we are focused on preparing the next generation of entrepreneurs," said DeNoble. "This new entrepreneurship minor is a significant milestone in our quest to build a world-class program for entrepreneurs here at SDSU." For more information on the entrepreneurship minor, please contact SDSU's Undergraduate Business Advising Center.
Alex Montoya 'Swings for the Fences' Again
The ever-buoyant Padres staffer pens another upbeat book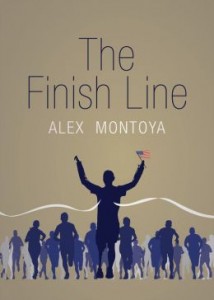 Alex Montoya fulfilled his dream of publishing a book and found himself asking, "What goal do I chase now?" His answer? He would compete in the San Diego Rock 'n' Roll Marathon as part of a relay team. In his new book, "The Finish Line," Montoya shares how, between maintaining his job at the San Diego Padres and promoting his book, he managed to train for hours at a time and to establish a body-strengthening diet. With two prosthetics and a limp, he twisted his torso as he speed-walked through the streets of downtown San Diego.
Awe-inspiring as his tale is, Montoya would be the first to tell you he's no superman, nor is he after elite status as an athlete. His hope is to inspire others to make their own dreams come true, no matter what the obstacles are.
Published by Tate Publishing and Enterprises, the book is available through bookstores nationwide, from the publisher at
www.tatepublishing.com/bookstore or barnesandnoble.com or amazon.com.
Montoya is the manager of Latino Affairs for the San Diego Padres, as well as a motivational speaker. His book, "Swinging for the Fences: Choosing to Live an Extraordinary Life," was published in 2008. He resides in San Diego, where he has been recognized with the Visionary Award by the Cesar E. Chávez Commemorative Committee and the Lead On Award by disability rights group Access to Independence, among other honors.
FOX Sports San Diego Introduces New On-Air Talent
FOX Sports San Diego announced that Dick Enberg, Mark Grant, Mike Pomeranz and Mark Sweeney will return to Padres telecasts in 2013 and introduced new on-air talent Laura McKeeman, Kelly Crull and Megan Olivi. McKeeman joins FOX Sports as the primary sideline reporter for Padres telecasts and will fill in throughout the season as Padres Live pregame and postgame host. McKeeman comes to San Diego from FOX Sports Florida where she was a contributing reporter for Tampa Bay Rays broadcasts as well as a sideline reporter for FOX Sports Big 12 football and Pac-12 basketball telecasts.
Crull, former FOX Sports Southwest reporter and host for the Oklahoma City Thunder, joins broadcast team as the host of the Padres magazine show, "Padres Weekly." She will also fill in throughout the season as sideline reporter for Padres telecasts and other various games on FOX Sports.
Olivi will be host of "Padres POV," FSSD's the behind-the-scenes show and as social media reporter during game broadcasts. Olivi made her on-air debut contributing to several FOX programs and is most widely known as the host of the UFC's pre-fight show "Fight Day" and reporter for HeavyMMA.com.
Returning to Padres telecasts will be Hall of Fame broadcaster Dick Enberg calling play-by-play alongside analyst and former Padre Mark Grant in the booth, as well as Padres Live host Mike Pomeranz and analyst Mark Sweeney.
The Daily Business Report is produced by SD METRO.
Contact: Manny Cruz (619) 287-1865. manny@sandiegometro.com.