Daily Business Report — March 1, 2013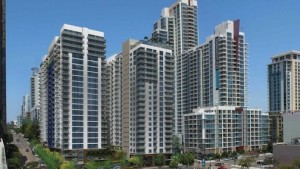 Downtown's Largest Rental Project
Approved by Civic San Diego
Blue Sky, Downtown San Diego's largest-ever apartment project, won final approval from Civic San Diego, the successor agency to the euthanized Centre City Development Corp. The complex will have two towers, one 23 stories high and the other 25 stories high, U-T San Diego reported. They will be located at 8th and B. "The project will contain 223 studios, averaging 455 square feet; 549 one-bedrooms of about 700 square feet; and just 167 two-bedrooms of about 957 square feet," wrote the U-T. "The rental rates will be decided later but noted that the current market rate starts at about $2.25 per square foot or about $1,000 per month for the Blue Sky units if they were available today."
Kinder Morgan Prevails in City's
Qualcomm Stadium Lawsuit
Mission Valley News — After five years and $4.75 million in attorneys' fees, the city of San Diego failed to convince a judge that a Texas-based oil company deliberately dragged its feet in cleaning up the soil and groundwater pollution it caused in Mission Valley. U.S. District Court Judge Michael M. Anello found that the city's case against Kinder Morgan Energy Partners, which owns the fuel tanks next to Qualcomm Stadium, was so weak a jury trial would not be necessary. Claiming that Kinder Morgan failed to clean up leaks from its fuel tanks in a timely and efficient fashion, the city sought $246 million in real estate and restoration damages. "The Court enters judgment in favor of Kinder Morgan not because doubt exists that Kinder Morgan has contaminated the Property in the past two or three decades, but because the city has not complied with applicable statutes of limitation nor gathered the evidence necessary to meet its burden of proof at trial," Anello wrote in the ruling. The City Council voted in closed session Feb. 13 to appeal the Jan. 25 ruling. The city attorney and members of the City Council declined to comment on the case. Since City Attorney Michael Aguirre filed the case in 2007, the city has relied on special outside legal services from Los Angeles firm Tatro Tekosky Sadwick LLP at a cost of up to $4.75 million.
(Read more at scoopsandiego.com/mission_valley_news)
The Old Mason Hotel Transformed
Into Studios for the Very Low Income
The San Diego Housing Commission celebrated the re-opening of The Mason, a century-old Downtown San Diego hotel that was destroyed by fire eight years ago and then rebuilt into studios for low-income individuals. The commission's nonprofit affiliate, Housing Development Partners, rehabilitated The Mason with the comission contributing a $2.68 million loan toward the $3.6 million project. Located on Fifth Avenue, The Mason will remain affordable housing for 55 years. Residents are very low-income, which means their income is 50 percent of the area median income or less, ($28,250 or less for a single person).
Port of San Diego Wins Climate Leadership Award
The Port of San Diego has received a Climate Leadership Award from the Environmental Protection Agency for its efforts to address climate change. The award, for Organizational Leadership, was announced on Thursday and presented at the Climate Leadership Conference in Washington, D.C. The Port of San Diego is only one of four local governments nationwide to be recognized by the EPA's Center for Corporate Climate Leadership.
Lee & Associates Adds Shareholders
Glen Stokoe and Ryan Bennett have joined the San Diego-North office of Lee & Associates as company shareholders. Specializing in industrial, R&D and office, Stokoe holds over 10 years of commercial real estate brokerage and ownership experience. His background includes industrial, office, land and investment brokerage, tax deferred exchanges, consulting and asset management. Bennett represents buyers and sellers in commercial income producing properties and has closed transactions totaling over $500 million. He specializes in the net leased investment market on a nationwide scale and, along with Ryan Barr, formed Barr & Bennett Net Leased Investments.
Cushman & Wakefield Hires Brokerages Director
Steven Bruce has joined Cushman & Wakefield's North County multi-tenant office team as director of brokerage services. Bruce will specialize in office leasing and investment sales with an emphasis on strategic landlord services. Bruce joins Cushman & Wakefield from Lee & Associates Commercial Real Estate, NSDC, where he was a principal.  During his eight years with the company, Bruce consistently ranked among its top producers, was its 2005-2006 Rookie of The Year, and served on its executive committee.
Two Attorneys Join Procopio Law Firm
Nikki W. Ma has joined the Procopio law firm's Del Mar Heights office and Robert G. Marasco has joined Procopio's Downtown San Diego offices. Ma's practice primarily focuses on intellectual property litigation. She has litigated complex intellectual property cases related to chemical compounds and computer accessories before the U.S. District Courts. Prior to practicing law, Ma worked as an undergraduate researcher in a bacteriology lab at UCLA and a microbiologist in a commercial testing facility.  Marasco's practice primarily focuses on the health care industry, namely serving as medical staff counsel for numerous hospitals and health systems, and as litigation counsel on behalf of health systems, hospitals, physician groups, and individual providers in business, professional liability, fraud and abuse, and administrative matters in both federal and state court.
********************
The Daily Business Report is produced by SD METRO.
Contact: Manny Cruz (619) 287-1865. manny@sandiegometro.com.