Daily Business Report — March 11, 2013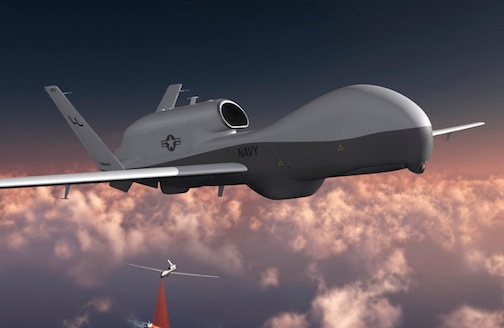 Northrop Grumman's Triton UAV
Northrop Grumman's Rancho Bernardo Plant
Designated as a Center for its Drone Business
Northrop Grumman has designated its Aerospace Systems Rancho Bernardo facility as its new Unmanned Systems Center of Excellence (the drone business), bringing in a number of jobs to San Diego from its facilities in Bethpage, N.Y. and Melbourne, Fla. It is one of five centers the defense firm has designated as centers of design and integration excellence. The company says that consolidating to San Diego will allow the team to grow efficiencies, performance and innovation to address the continued needs of domestic and international customers. The Rancho Bernando site employs 2,200 people. "Consolidating these centers of excellence will improve our strategic alignment with our customers' need for increasingly innovative and affordable products, services and solutions," said Wes Bush, chairman, chief executive officer and president of Northrop Grumman. The company will close its Dominguez Hills, Calif., facility as part of its consolidation.
Ruling on Convention Center
Expansion Expected Today
A tentative ruling is expected today on whether San Diego's method of paying for the latest Convention Center expansion is legal, KPBS reports. San Diego last year voluntarily asked a judge to rule on whether the chosen funding method for the Convention Center expansion was valid. The city wants to pay for the expansion by allowing hoteliers to add an additional surcharge onto hotel room bills. The question is whether the fee amounts to an illegal tax because the public did not vote on the plan. Instead, city hotel owners approved it. Under the plan, hotels would charge an additional 1 to 3 percent fee depending on how close they are to Downtown. Those closer to the Convention Center would charge more. The money would go toward the $520 million Convention Center expansion. This fee is separate from the 2 percent surcharge hoteliers are assessing to market San Diego. If both plans are found to be legal, hotel taxes in Downtown could run at about 15 percent. A hearing on the tentative ruling will be held on Wednesday.
New Solar Initiative Announced
By Mayor and Two Supervisors
City News Service — San Diego Mayor Bob Filner and two members of the county Board of Supervisors announced an initiative to improve energy efficiency in public buildings, and increase the government, commercial and residential use of solar energy. The city, county and San Diego Unified School District are the first members of what officials call the "Solar Summit," and they hope to bring in additional cities in the region, along with more school districts and public agencies like water and fire protection districts. Filner, along with Supervisors Dianne Jacob and Dave Roberts, said they want to make the city and county governments an example for the public, and find ways to offer incentives to business owners and residents who want to install solar power systems.
U.S. Bank Giving Employes Tools and Funds
to Help Implement Sustainability Programs
Beginning this month, U.S. Bank employees serving on any one of the bank's 30 "Green Teams" across the country can apply for grants of up to $250 to help implement sustainability programs that their teams develop. "Over the past few years, our Green Teams have inspired creative and unique ideas," said Lisa O'Brien, director of environment affairs for U.S. Bank. "By providing this grant opportunity, we believe the Green Teams can have an even greater influence on employee education and engagement, resulting in a direct benefit to our environmental impact."
In addition to the grants program, U.S. Bank will distribute sustainability kits to Green Team leaders. The kits are designed to educate employees and help them identify ways to optimize energy and water efficiency both in the office and at home and will include: a Kill-a-Watt meter to measure energy consumption and costs for individuals electronic devices; water usage gauges and leak indicator tablets to measure how much water is potentially being wasted by anything from a running faucet to a leaky toilet; infrared thermometer to record surface temperatures to find out where air may be escaping or entering a house; and instructions and educational materials to help employees understand and impact their results.
NewSchool of Architecture and Design Partnering
With Bjarke Ingels Group to Offer Design Studio
NewSchool of Architecture and Design is collaborating with the Bjarke Ingels Group (BIG) to offer a design studio led by architect Kai-Uwe Bergmann, partner and director of business development at BIG. The award-winning architectural firm, founded by Bjarke Ingels in 2005, is involved in projects throughout the world, and the studio represents an opportunity for students to receive instruction on the design and planning principles employed by the firm. The special design studio will take place in spring 2013 at the San Diego school. About 14 NSAD students, including those at the undergraduate and graduate levels, will have a chance to enroll in the design studio based on a competitive application process. As part of the studio collaboration, which starts in April, Bergmann will be present for the midterm jury presentations and the final presentations.
Thomas Cheek Joins Seacoast Commerce Bank
Seacoast Commerce Bank has hired Thomas "Tommy" Cheek as vice president, business development for its corporate headquarters branch in San Diego. Cheek has almost 20 years of banking experience, predominately focused on commercial business relationships — all in the greater North San Diego market.
************
The Daily Business Report is produced by SD METRO. Contact: Manny Cruz (619) 287-1865. manny@sandiegometro.com.