Daily Business Report — March 5, 2013
Filner and San Diego Hoteliers Clash Again
Looks like there's another fight brewing between San Diego Mayor Bob Filner and the hotel industry over marketing duties. Filner is calling on the San Diego Convention Center to take back control of its longterm sales and marketing operations, KPBS reports. Last year, the publicly funded Convention Center board voted to transfer those operations to the privately run San Diego Tourism Authority, formerly known as ConVis. The City Council approved the transfer.Now, Filner has written a letter demanding the Convention Center board terminate the contract. Filner said the transfer was a "politically initiated demand made by local hoteliers as part of the center's expansion financing agreement." In an email to local hoteliers, San Diego Tourism Authority CEO Joe Terzi said this is a critical issue that needs to be addressed right away. In a statement, Convention Center Board Chair Phil Blair said former Mayor Jerry Sanders requested the sales and marketing services be transferred as part of the financing deal for the Convention Center expansion. Blair said the board will likely take up the issue immediately. The Convention Center board will meet today at 4 p.m.
San Diego Would be First to Set Minimum
Qualifications for Port Commissioners
City News Service — San Diego would break new ground in California by setting minimum qualifications and reporting requirements for port commissioners, as requested by Mayor Bob Filner, according to a report released by the city's independent budget analyst. In January, Filner vetoed appointments of two commissioners who had been picked by the City Council to sit on the Port of San Diego Board of Commissioners, partially because of a lack of such standards. His vetoes were subsequently upheld by the council. A half-dozen port districts similar in organization to San Diego's have informal protocols for appointments and reporting of port activities to elected officials, according to the IBA. The authors of the report agreed with the mayor's desire to see people with "professional skill sets" appointed to the port's board of commissioners to represent city interests. The city has three positions on the board, but only one is currently filled.
Vacant Warehouse Building Sold for $5.6 Million
Ashley Furniture Homestore to open a showroom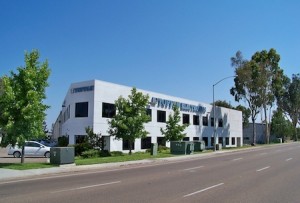 A warehouse building that has stood vacant the past 10 years after Toppan Electronics moved its operations to Poway has been sold for $5.6 million to Ashley Furniture Homestore. The buyer intends to renovate the building, located at 7770 Miramar Road, San Diego, to operate a 54,067-square-foot showroom and use the remaining 67,277 square feet as warehouse space. The building was built in 1974 on 5.4 acres. Toppan, the seller, was represented by CBRE San Diego. The buyer was represented by CBRE San Diego and Campbell Realty Advisors.
USD to Improve Nursing Care in
Underserved Areas of San Diego
The Hahn School of Nursing at the University of San Diego says it will be able to boost the number of students from underrepresented minorities, ensure that students practice in underserved areas and develop plans to treat combat veterans with a $144,000 grant that it has received from the state. Under the grant, a  USD program for professionals seeking a new career in nursing will add five additional students this fall from minority or economically disadvantaged groups.  "With these funds we hope to increase our ability to provide care for our county's vulnerable populations by directly impacting both the knowledge and the diversity of our nursing workforce," said Linda Urden, professor of nursing who will administer the grant along with Susan Bonnell, associate clinical professor of nursing.
Sean P. O'Connor Names President/CEO of Nucelis Corp.
Sean P. O'Connor has been named president and CEO of San Diego-based Nucelis Corp. O'Connor has served in a number of senior business management roles at Chemtura Corp., most recently as president of its petroleum additives business unit based in Connecticut. He previously managed Chemtura's polymer additives portfolio. Prior to this, he worked in a number of different roles at British Petroleum in the United Kingdom. He has a PhD in organic chemistry from the University of Bristol.
Shari Winet Rodriguez Promoted to
PR VP for  Bridgepoint Education
Shari Winet Rodriguez has been promoted to vice president of public relations for Bridgepoint Education Inc. Winet Rodriguez joined the San Diego-based higher education company in 2008 as a director, and was promoted to associate vice president in 2010. She has since developed the company's public relations department into a team of 18 communications professionals in five states. Winet Rodriguez previously owned and operated Lemon Drop Productions, a San Diego-based communications and event planning firm. She also served as director of public relations for the law offices of Mazzarella Caldarelli and as the assistant director of public relations for the San Diego Opera.
Gordon Kovtun and Stephen Lew
Named To Balboa Park Conservancy
Balboa Park Conservancy has appointed Gordon Kovtun and Stephen Lew to its 10-member board of directors. Kovtun is the founder of KCM Group, a construction management company serving residential, commercial and institutional clients. He has more than 25 years of experience in various construction-related arenas. Currently, he serves as the consul to Norway for San Diego and Imperial Counties. Lew is vice president of investments and business operations at S. Lew & Associates Inc., a commercial real estate firm active throughout the western United States. Previously, he served the city of San Diego as director of community outreach and business relations for former Mayor Jerry Sanders. Lew is currently a trustee for the Lew Family Foundation.
Qualcomm Bumps Up Quarterly Cash Dividend
And Announces $5 Billion Stock Repurchase
Qualcomm Inc.'s  board of directors has approved a 40 percent increase in the company's quarterly cash dividend and, effective immediately, a new $5 billion stock repurchase program to replace the prior $4 billion stock repurchase program, which had $2.5 billion of repurchase authority remaining. The cash dividend will increase from $0.25 to $0.35 per share of common stock and will be effective for quarterly dividends payable after March 27, 2013. This dividend increase will raise the annualized dividend payout to $1.40 per share of common stock. "Our business model continues to generate strong operating cash flows that enable us to invest in and execute on our strategic priorities, while also returning capital to stockholders," said Paul Jacobs, chairman and CEO. "Since these programs began in 2003, we have returned $19.9 billion to stockholders through a combination of stock repurchases and cash dividends." The new stock repurchase program has no expiration date.
********************
The Daily Business Report is produced by SD METRO.
Contact: Manny Cruz (619) 287-1865. manny@sandiegometro.com.