Daily Business Report — April 8, 2013
Murphy Development Introduces Major Otay Mesa Development
Murphy Development Co. has announced plans to develop a 50-acre, "shovel-ready" corporate industrial and office park on Otay Mesa designed to attract high-end companies such as the several Fortune 500 companies that have moved into the company's nearby Siempre Viva Business Park.
The company said that final maps are recorded and all entitlements have been secured for the development of up to 3.2 million square feet on the property, to be called the Brown Field Technology Park. The San Diego County Regional Airport Authority has given approval for the construction of office buildings up to six stories tall on the site.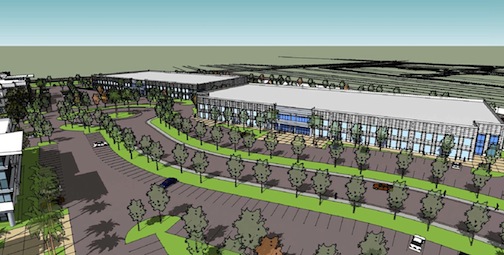 "Brown Field Technology Park offers potential tenants state-of-the-art design, large setbacks, impeccable corporate image and landscaping, and LEED-inspired energy efficiency, coupled with San Diego's lowest occupancy costs," said R. Michael Murphy, president of Murphy Development, which has developed or master-planned nearly 9 million square feet on Otay Mesa in the past 30 years, including the 2.1 million-square-foot Siempre Viva Business Park, which is 90 percent complete.
Tenants in that development include General Dynamics NASSCO, UPS, Hitachi, Mattel, Bose Corp. and Circle Foods, the largest employer on Otay Mesa with some 600 employees.
The property is positioned within a U.S. Department of Commerce Foreign Trade Zone and within an Enterprise Zone, both of which offer important tax incentives for local firms, the company said.
Murphy said the development is ideally situated for easy access to the entire Southwest and Mexico. The newly constructed SR-905 freeway features a diamond interchange at the entrance to the park, and convenient access to I-805 and the South Bay Expressway (SR 125 Toll Road). "Otay Mesa employees enjoy time-saving reverse commutes against the traditional freeway traffic on I-5 and I-805, substantially reducing the travel time between residential areas and Otay Mesa," said Murphy. The park is adjacent to Brown Field Airport and less than a mile from the cross-border terminal being planned to enable passengers to access Tijuana's A.L. Rodriguez International Airport from the United States.  Construction on the cross border terminal is expected to start this year.
Jamul Indians Take on Another Partner
To Advance Plans for $360 Million Casino
Jamul Indian Village, a tribe that for years has tried to develop a casino on its land in rural Jamul, has partnered with another developer, Penn National Gaming Inc., to jointly develop a "Hollywood-branded" casino and resort. The proposed $360 million development would include a three-story gaming and entertainment facility of 200,000 square feet featuring at least 1,700 slot machines, 50 live table games, multiple restaurants, bars and lounges and a partially enclosed parking structure with over 1,900 spaces. The tribe said construction could begin later this year. Penn National Gaming, based in Pennsylvania, would manage the casino and resort. Lakes Entertainment Inc. had been working with the tribe on casino plans until last year, when it severed its ties. It had advanced the tribe $57.5 million toward the project.
Several attempts by the tribe to advance its casino plans over the years have met with opposition and skepticism from local residents, who have said the two-lane Highway 94 could not handle casino traffic. They said the peaceful, rural character of Jamul would be compromised. The tribe has said it has been working with Caltrans on ways to mitigate traffic problems.
Navy Awards Northrop Grumman Corp.
$80 Million Communications Contract
The U.S. Navy has awarded Northrop Grumman Corp. an $80 million contract to upgrade a communications system aboard naval surface ships. The contract, awarded by the Space and Naval Warfare Systems Command (SPAWAR), has a two-year option that would bring the total value to $95 million. The Northrop Grumman team includes GET Engineering, El Cajon; FUSE Integration Inc., Long Beach; and Technology Unlimited Group, San Diego.
Isis Pharmaceuticals Forms Alliance With Swiss
Firm to Develop Huntington's Disease Treatments
Swiss biotech firm Roche and Isis Pharmaceuticals in Carlsbad have formed an alliance to develop treatments for Huntington's disease based on Isis' antisense oligonucleotide technology. Huntington's disease is an inherited genetic brain disorder that results in the progressive loss of both mental faculties and physical control. Initially, research will focus on Isis' lead drug candidate that blocks production of all forms of the huntingtin protein, the protein responsible for Huntington's disease and thus has the potential to treat all HD patients. Under the terms of the agreement, Roche will make an upfront payment of $30 million to Isis, with total payments related to license fee and pre- and post-licensing milestone payments reaching potentially $362 million, including up to $80 million in potential commercial milestone payments. Isis will receive royalties on sales of the drugs.
City Council to Consider Policy Changes on
Port Commisioners and Appointments to Boards
The San Diego City Council is scheduled to take up proposed policy changes on port commissioners and appointments to boards and commissions at its meeting today, City News Service reports. The amendments stem from a dispute with Mayor Bob Filner over appointments to the Port of San Diego Board of Commissioners that he vetoed. Filner, who made job creation along San Diego's waterfront a centerpiece of his mayoral campaign, said nominees for the port commission should meet certain standards. He also objected to council voting procedures that resulted in the vetoed nominees. For prospective port commissioners, the City Council will consider conditions that include familiarity with the city's port policies, plus prior experience in the maritime industry, international trade, finance or public service. Once appointed, the port commissioners would be required to provide quarterly briefings to the mayor or his designee. San Diego has three seats on the six-member port board, and two positions remain vacant.
UC San Diego and World Wildlife Fund
To Offer Program in Forest Carbon Study
UC San Diego and World Wildlife Fund will launch in August a new international certificate program in Advanced Terrestrial Carbon Accounting — or how to measure forest carbon. The sponsors say this is a key step to unlock new public funding to protest forests and fight climate change. By using the latest cutting-edge scientific tools and methods to measure forest carbon, participants will be able to provide rigorous estimates of how conserving tropical forests avoids emissions of greenhouse gases. American applicants have until June 15 to apply.
San Diego Office Market Posts Lower Vacancy,
Increased Rental Rates in 1st Quarter 2013
The San Diego office market started off strong in the first quarter of 2013 posting lower vacancy, increasing rental rates and solid leasing activity, according to a report by CBRE San Diego. The Market View report said the first quarter marked the 14th straight quarter of positive net absorption and demonstrated a level of consistency as the previous 12 months produced over 1.2 million square feet of net absorption, the highest of any 12-month period since 2006. CBRE Senior Vice President Rob Merkin said the office market has stabilized. "The lease rates for Class A office space have increased with Class A and Class B vacancies decreasing in most major submarkets. The office market has reached equilibrium," he said. The first quarter of 2013 was San Diego's strongest start to a year for industrial properties since 2006. Building upon significant gains in the second half of 2012, first quarter net absorption of 711,000 square feet drove vacancy to a four-year low of 8.9 percent.
Average asking retail lease rates grew by $0.02 in the first quarter to $1.80, the report said. "Although the countywide average asking lease rate did not increase significantly, certain submarkets have shown substantial growth and rental rates are trending upward across the board, primarily driven by the return of mom and pop shops. With general economic conditions stabilizing, mom and pop retailers are opening stores and filling smaller spaces, putting upward pressure on rental rates."
JetBlue Airlines Co-Founder to Speak
At Corporate Directors Forum Event
Ann Rhoades, director and co-founder of JetBlue Airlines, is the guest speaker at a May 2 breakfast program sponsored by the Corporate Directors Forum. Rhoades, a former director at PF Changs and Restoration Hardware, among others, will speak about the board's role in helping to create and support a winning, values-based culture. She is author of "Built on Values: Creating an Enviable Culture that Outperforms the Competition." the event will be held at the Hyatt Regency La Jolla, 3777 La Jolla Village Drive, La Jolla. Networking is at 7 a.m. and the breakfast and program is from 7:30 to 9 a.m. Cost is free to Corporate Directors Forum members, and $50 for nonmembers. For ino, visit directorsforum.com.
Mercury Village Shopping Center Sold
The Mercury Village Shopping Center in Kearny Mesa has been sold for $7.98 million to Mercury Clairemont Mesa LLC. The 28,730-square-foot shopping center, built in 1979, was fully leased at the time of the sale. The seller was Mercury Village Holdings LLC. CBRE San Diego Private Capital Group represented the buyer.
San Diegan Appointed to State Medical Health Commission
Paul Keith, 69, of San Diego, has been appointed to the California Mental Health Services Oversight and Accountability Commission by Gov. Brown. Keith has been medical director of behavioral health at the Wellpoint West Region of Anthem Blue Cross since 2000 and medical director for integrated behavioral health since 1992. Previously, he was medical director of the Behavioral Health Unit at Palomar Medical Center from 2000 to 2009 and associate medical director of the public sector program at United Behavioral Health from 1997 to 1999. Keith was medical director at Vista San Diego Center and medical director of the child and adolescent program at Alvarado Parkway Institute from 1987 to 1994. The position does not require Senate confirmation and there is no compensation. Keith is a Democrat.
Three Promoted at Southwest Strategies
Stephanie Dell, Joe Britton and Melissa Cameron have been promoted at Southwest Strategies, a San Diego public relations firm. Dell was named director of public affairs and Britton and Cameron took the title of manager of public affairs. Dell holds a bachelor's  degree from California State University Chico. Britton, formerly a reporter with City News Service, has a bachelor's degree from the University of Minnesota Duluth. Cameron has a bachelor's degree and a master's degree and previously worked in the Salt Lake City, Utah, public affairs industry.