Spike Africa's Fresh Fish Grill & Bar
Homage to a True Sailor
Spike Africa's Fresh Fish Grill & Bar offers ultra-fresh coastal California and global seafood
By David Rottenberg
One of my 2013 New Year's Resolutions is to enjoy more of the fresh seafood that San Diego is known for. Luckily for me (and for any other Gaslamp-goers) the city is adding another seafood venue: Spike Africa's Fresh Fish Grill & Bar. Located on Fourth and Broadway, the restaurant opened in January.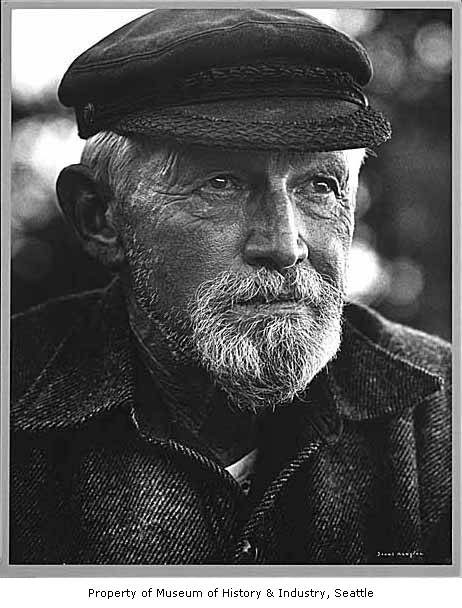 Spike Africa's is named after the free-spirited captain, Spike Africa. Known as the "President of the Pacific Ocean," Spike was revered throughout the West Coast. Stories are said to be told of him from Seattle to San Diego.
Spike is best known for his adventurous voyage with the actor Sterling Hayden and their families, which ended in Tahiti in 1958 and was chronicled in Hayden's classic sea novel "The Wanderer."
As a "Seabee" lieutenant in World War II, Spike fought in the bloody battle of Peleliu Island as depicted in the HBO mini-series "Pacific." The restaurant Spike Africa's pays homage to the memory of a true sailor, the mystique surrounding his adventurous life and the love he had for the ocean.
Executive Chef Paul Rinaudo's focus is to source the best, ultra-fresh coastal California and global seafood while utilizing the support of local fishermen and farmers to ensure the highest quality and commitment to sustainability.
Spike Africa's straightforward menu features honest dishes, which include fresh Pan Seared Sea Scallops with Italian sausage, navy beans, fennel and citrus sauce; and the Port Townsend Seafood Simmer, a mix of scallops, mussels, shrimp and fish in a tomato broth.
In addition to the set menu, guests will have the option of a "daily catch." Accompaniments change periodically to reflect the availability of the most seasonal ingredients.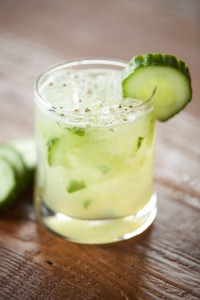 Guests looking for the perfect alcoholic complement to their seafood dishes will have premium spirits, craft beers and local wines to choose from. In addition, Spike Africa's also offers a variety of signature staples like the Sand Dancer Margarita, a mix of El Jimador Blanco, apricot, chipotle syrup and lime juice.
The approachable and tasty bar menu is also far from average. It features notable favorites like beer steamed peel and eat shrimp, Ahi Poke, Oysters Rockefeller, and Fresh Fish Ceviche.
Conceptualized by the collaboration of Coastline Designs and Margee Drew Designs, Spike Africa's is a warm space with hints of seafaring nostalgia — which proved to be easier than expected after some "treasure" was found during demolition. Sixteen layers of flooring were exposed during the renovation and a large, 100-year-old safe was discovered in the walls. It will be used to house wine and liquor.
The 100-year-old wood planks and timber were repurposed to create eclectic tabletops and exposed ceiling rafters. While the reclaimed wood floors and brick walls all add a slight timeworn touch, "urbanautical" accents and marine hardware integrated into the overall appearance create a sense of balance between Spike's time and today. The design is finished with family archived articles of Spike's travels that allow guests to be a part of the captain's adventures.
Spike Africa's Fresh Fish Grill & Bar
411 Broadway, San Diego 92101
(619) 795-3800
www.spikeafricas.com
Established: January 2013
Operation: Daily from 11 a.m. Happy Hour 4-6:30 p.m. Monday-Friday
Executive Chef: Paul Rinaudo
Partners: Robert Ham, Gordon Miles, Daniel Bylund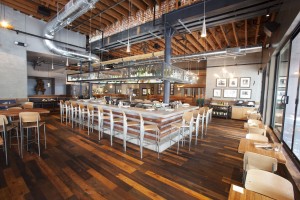 Spike Africa's Fresh Fish Grill & Bar is the latest development by Seafaring Ventures LLC, whose partners, along with Paramount Pictures, developed the Bubba Gump Shrimp Co. restaurants.
We suspect that Africa got his name "Spike" from a rigging tool used on sail boats, and it fits him perfectly. He stood out among the crowd and he was a force to be reckoned with when a challenge arose. Even the portrait of him in is old age illustrates his character. His white beard and lines on the facial appearance marked his long tales of oceanic adventures. He loved uncharted waters in the oceans as well as in life. Africa passed away in 1985 at the age of 78.
DIning San Diego, san diego metro magazine, SD METRO, Spike Africa's Fresh Fish Grill & Bar San Diego